Report: Apple iPhone Xs Plus to carry 6.5-inch OLED panel with resolution of 1242 x 2688
45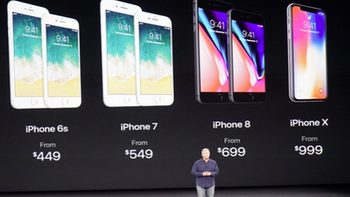 Earlier this year, KGI Securities
Apple analyst Ming-Chi Kuo told us to expect three new iPhone models for 2018
. The
Apple iPhone Xs
will be a sequel to the current iPhone X, featuring a 5.8-inch OLED panel. The
Apple iPhone Xs Plus
will come with a 6.5-inch OLED display, and the
Apple iPhone 9
will be equipped with a 6.1-inch LCD screen. Unlike the other two models, the iPhone 9 will sport just one camera on back and will not support 3D Touch; all three models should come with the TrueDepth Camera and Face ID.
This morning, Bloomberg passed along some leaked information related to the 2018 iPhone units that Apple will unveil later this year. The anonymous sources that talked to Bloomberg basically repeated exactly what KGI's Kuo said last month, but with some new and additional information. For example, the
Apple iPhone Xs Plus
has a code name of D33, and the huge 6.5-inch OLED display carries a resolution of 1242 x 2688. That would provide the screen with a pixel density of 455ppi, close to the 459ppi reading on the iPhone X.
Speaking of the Apple iPhone X, Bloomberg says that the sequel to the tenth-anniversary model will have the code name of D32, and should continue to sport a 5.8-inch OLED display. Also, the iPhone Xs Plus and the iPhone Xs will both be available in gold. In some regions, the two units will offer dual-SIM capabilities. Apple is considering the use of E-SIM technology, which would allow a phone to connect to multiple carriers without requiring a physical SIM card.
Apple is making a change to its low end model for 2018. As we pointed out earlier in the story, the Apple iPhone 9 will have all of the most wanted features from the more expensive "Xs" line, such as the edge-to-edge display, the TrueDepth Camera and Face ID; Apple will keep the price down by cutting out other things. For example, it will have aluminum corners, a glass back, an LCD display, no support for 3D Touch, and only one camera on back.
It is certainly interesting that the sources Bloomberg spoke with have the same information obtained by Ming-Chi Kuo. Still, it is only February and we have seven long months to go before Apple introduces its 2018 iPhone lineup. In other words, things can change by the time we get to September.
source:
Bloomberg