Get up to 256GB storage more on your phone: SanDisk unveils two new 256GB MicroSD cards
18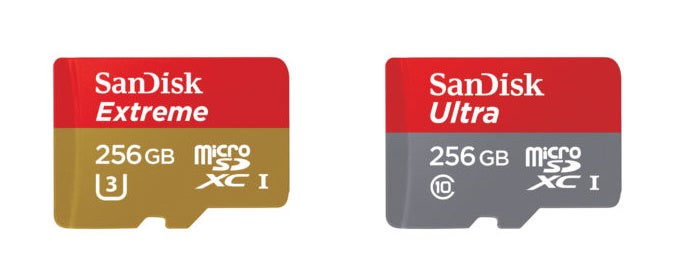 If you're looking to get the most storage in your phone, a microSD card to expand the built-in storage is the best option. If your phone supports it, of course.
Now, you have two new options when it comes to the highest capacity microSD cards out there: SanDisk has just launched its two new 256GB microSDXC cards on the market.
The first one, the SanDisk Extreme MicroSDXC UHS-I, is the faster of the two and is listed to have UHS Speed Class 3, which should allow you to capture 4K video on it. The second one, the SanDisk Ultra MicroSDXC UHS-I card, Ultra Edition, has transfer speeds of 95MB/s and is said to be more suitable for 1080p Full HD video recordings.
Tons of storage at a price of up to $200
The faster, Extreme edition is also a great fit for action cameras, while the Ultra Edition would be more suitable for storing and recording less data-intensive formats. Both cards are Class 10.




The 256GB Extreme edition card will sell for $200 and the release date is set for Q4 2016, while the 256GB Ultra version will retail for $150 and go on sale in August.




Keep in mind that these are the highest capacity microSD cards on the market right now and that explains their higher-than-usual price. If you are not really in need of the most storage, you should definitely consider a lower-capacity model such as 64 gig and 128 gig models that sell for a much better price-per-gigabyte of data.