Germophobes, rejoice! ZTE Axon is the first phone with Corning's antimicrobial Gorilla Glass
10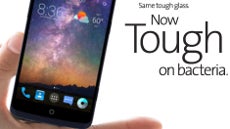 Remember that
antimicrobial cover glass
that Corning invented not long ago? Well, it has matured to retail production now, and the
ZTE Axon
will be the first phone to employ it, says a joint press release.
The germophobes of this world will rejoice when they hear that Corning has incorporated antimicrobial tech in its
Gorilla Glass
franchise, which is supposed to kill germs and viruses that can stick to your phone's screen, and get transferred to you, or someone else using it. Even after just half an hour, measurements showed that the treatment killed a bunch of invisible critters that are lounging on the glass at any given time, compared to regular displays, and in two hours all bacteria or viruses that could cause harm, were dead and buried.
"
We are delighted to work with Corning to offer the first smartphone with Antimicrobial Corning Gorilla Glass
," said the CTO of ZTE Mobile Devices, while the VP of Corning's Special Surfaces program chimed in that "
With the rise of touch technology and our constant interaction with people and public surfaces, the microbes on our smartphones are not our own. We developed Antimicrobial Corning Gorilla Glass to address this concern, and are excited to see this technology enter the consumer electronics space with the launch of the ZTE AXON
."
source:
Corning