Corning says that its Gorilla Glass 4 offers twice the protection of Gorilla Glass 3
22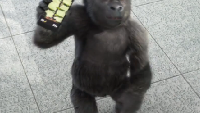 Corning has introduced Gorilla Glass 4, which is said to offer twice the protection against cracked and broken displays as the previous iteration of the product. Research done by the company suggests that dropping your phone (display side down) on a rough, hard surface is more likely to result in blood curdling screams and cries of desperation from smartphone owners.
Using 180-grit sandpaper to simulate these rough surfaces, Corning scientists dropped smartphone after smartphone from a height of 3.3 feet. Some of these handsets had screens protected with Gorilla Glass 4, while others used a competitor's coating. The result? Gorilla Glass 4 protected a phone's display from breaking 80% of the time.
Cliff Hund, president of Corning East Asia, said that sapphire glass is "
top of the line
" when it comes to "
visible scratch resistance
." But he adds that when damage or stress is introduced, sapphire trails Gorilla Glass in durability. Sapphire, which is the second hardest material on earth trailing only diamonds, is widely expected to be employed by Apple for the next iPhone.
Poor yields from the finishing process
forced Apple to skip using sapphire on the
Apple iPhone 6
and
Apple iPhone 6 Plus
.
Meanwhile, Corning has started shipping out Gorilla Glass 4 to its smartphone producing partners, and we could see it in use as early as this quarter. For all of you butterfingers out there who cringe at the sound of smartphone display meeting concrete or any other surface, there is hope. Corning's Hund says about cracked screens, "
I won't say we've wiped it out, but we've taken a real large chunk out of it
."
Thanks for the tip, Gilbert!
source:
Corning
via
TheVerge