German politicians might say "No!" to iPhones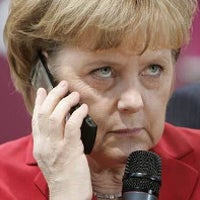 As many of you might have heard, there has been a lot of tension between the USA and Germany about the big spy scandal that involved NSA and several high-ranking German politicians. Allegedly, even the Chancellor of the Bundestag Angela Merkel had her phone wiretapped. Anxious to prevent any future eavesdropping by foreign intelligence agencies, Germany's next government will most probably take extreme measures.
According to German newspaper Bild, in order to achieve greater confidentiality, German political figures will most certainly have their devices encrypted by special software developed by Germany's Federal Office for Information Security. When discussing official matters, German politicians will be required to use only devices, compatible with this encryption software. Because iOS doesn't support this software, future members of the Bundestag will have to replace the iPhones in their pockets with other smartphones that support the encryption technology. It is yet unclear if Android-powered devices will support this security software.
source:
TheLocal
via
GigaOm