Gartner joins IDC and others, calls for single-digit growth in smartphone shipments for 2016
2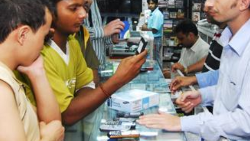 At the beginning of this month, analytical firm
IDC lowered its estimate of growth for smartphone shipments in 2016
from 5.7% to a measly 3.1%. Now, Gartner joins the parade of analytical firms who say that double-digit growth in smartphone shipments are over for the time being. Gartner sees deliveries of smartphones rising 7% this year, cut in half from 2015's increase of 14.4%. For 2016, 1.5 billion handsets will be shipped, rising to 1.9 billion by 2020.
Gartner believes that the glory days for intelligent handsets is over. The best year for these devices was 2010 when year-over-year growth came to 73% The reason for the slowdown starts with penetration in North America, Western Europe, Japan and the Asian/Pacific market. In those regions, 90% of consumers sport a smartphone. And Roberta Cozza, senior director at Gartner, says that those in mature markets have widened the upgrade cycle to 2.5-years from 2-years. She calls handset updates "incremental rather than exponential," which means that consumers no longer feel compelled to update every two-years or risk missing an important new feature.
According to Annette Zimmerman, research director at Gartner, India has the most potential of any market. But the problem is that with a per capita income of $1500, only low-priced handsets are being purchased. 70% of smartphones rung up last year in India were sold for $150 or less. Smartphone sales are estimated to rise 29.5% in the country this year, reaching 139 million units.
"India has the highest growth potential. Sales of feature phones totaled 167 million units in 2015, 61 percent of total mobile phone sales in India."-Annette Zimmermann, research director, Gartner
source:
Gartner
via
TechCrunch