Garmin's new viago navigation app offers premium features starting at just $1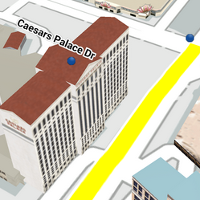 Navigation specialist Garmin is offering a new app that provides premium navigation features, starting at a low price. Named viago, the app is available from both the Google Play Store and the Apple App Store. From now until July 12th, the price of viago is just $1, and it will double to $2 starting on July 13th.
Unlike most free turn-by-turn navigation apps, viago offers lane assist, which tells you exactly which lane you should be in when making a turn. Actually, this is a feature that Google has recently added to its turn-by-turn navigation service. Garmin's new app does offer photos of junctions and other "complex" roads. This enables you to drive through unfamiliar territory without having to decipher a colorful, cartoonish look at the asphalt in front of you.
Also making driving easier is the use of 3D representations of nearby buildings and landmarks. And Garmin's Real Directions guide will have you following spoken instructions without a problem. For example, you might be more easily able to follow a direction that says, "Turn left after the clock tower".
If you have a heavy right pedal foot, viago can be of help since it not only checks your speed, it also will display the speed limit of the road you are traveling on. Current weather and traffic conditions are also available. And after you install the app for the first time, you will have the option of buying updated maps from Nokia HERE as an in-app purchase. These updated maps are $9.99 each until July 13th, at which time they are bumped higher to $19.99 each. And the Maps to Go feature will allow you to navigate, even without an internet connection.
While the $1 price of Garmin's viago sounds like a steal (even at $2 starting July 13th, the app sounds like an out and out bargain) we should warn you that it could cost as much as $20 to add all of the extras that are free on the navigation app you currently use. One example of this would be mass transit directions, which are free on other mapping apps but will have you reaching for your credit card with viago.
Garmin's viago navigation app
source:
viago
(Android) via
AndroidCenter