Game of Thrones Ascent hands-on
2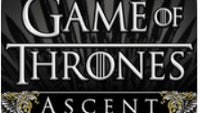 It's Sunday night, and we bet that you're trying desperately to not read spoilers on Facebook regarding the latest episode of Game of Thrones. There's little doubt that the popular television show has a huge following, but for those who want to get more of the show while on the road, they'll probably want to check out the Game of Thrones Ascent game for the iPad. Now, for some of the hardcore fanatics out there, they're probably familiar with the title already because it's been playable via the web on Facebook for the last year.
With the iPad version of the game, which will also be coming to Android in the coming weeks, it features enhanced artwork geared specifically to look sharper on the iPad's Retina Display. And of course, the controls have been retooled as well, in order to make it ideal for the touch experience.
If you're looking for an action paced game, you'll probably want to look elsewhere, mainly because this social mobile game based on the books requires a lot of reading through dialog – thus, the decisions you commit to can affect outcomes later on. Basically, you take control of a noble of Westeros, where you'll be able to personalize your character and then go through the game accumulating various resources to complete quests and adventures.
This strategy game requires some paced decision making, just because every action can have an adverse consequence – whether it's positive or negative to your cause. Of course, fans of the books and show will undoubtedly eat up everything it has to offer. The story by itself, is enough to enthrall hardcore fans, but the real deal of the game is competing against the millions of players already engrossed in the world of Westeros. Winter might be coming to end in real life, but don't let that stop you from checking this out on the iPad right now – and Android devices when it launches in the coming weeks.