You can now have a fully functional Game Boy... as your iPhone case
12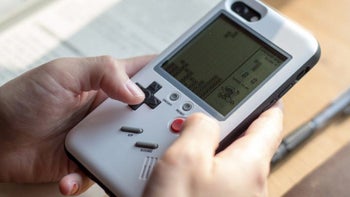 A fully functional Game Boy for an iPhone? Yes, please!
And if you thought this was some sort of fan fiction or some crazy contraption, it's not. It is indeed a fully functional Game Boy, one that you can use to play Tetris and other retro titles on, and it's a perfectly well-fitted case for the iPhone.
There are actually various such Game Boy cases for the iPhone out there, but this particular one stands out with glowing reviews and a reasonable price. It's made by a company called Wanle Gamers, has more than a hundred five-star review, and is now on sale for just $20!
There are models that fit various iPhone models, from the older iPhone 6 and 6s to the latest iPhone 8 series and the iPhone X.
With this being a case, expect it to act like one: it will protect your phone, it will still provide proper access to buttons and ports, it's fairly lightweight for what it is, and it comes with 10 classic games pre-installed: Tetris, Tank, Formula One Racing, Snake & Block, and others.