Samsung Galaxy S9+ teardown reveals similarity to last year's model, with some important changes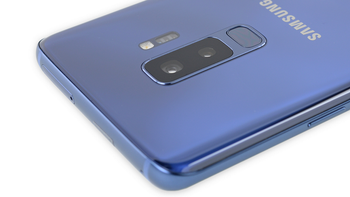 The iFixit tear down of the
Samsung Galaxy S9+
mostly revealed exactly what you were probably expecting. What you might not have known was that the specs of the battery inside the unit (3.85V, 3,500mAh and 13.48Wh) match up exactly with the battery used on the ill fated
Samsung Galaxy Note 7
. Now just because the specs are the same doesn't mean that the battery is the same, because it is not. It's just an interesting coincidence between Sammy's new premium handset and the twice recalled Galaxy Note 7. Exploding batteries inside the latter model forced Samsung to get the device out of consumers' hands.
Considering the difficulties that the iFixit team had opening the handset, repairing the
Galaxy S9+
might end up costing a pretty penny. Plenty of glue was used to keep a watertight bond, and inside, the
Galaxy S9
+ looks quite similar to last year's model. There are changes, of course, besides a bump in specs. Even though there is a dual camera setup on back this year, the cameras are really one part with a single PCB and a single connector. Speaking of the rear cameras, the variable aperture that allows users to switch between f/1.5 and f/
2.4
on one sensor, works with a couple of rotating rings that click into place when an aperture is set.
According to iFixit, it might be possible to change the battery although it would be hard to do. Many components are modular and can be replaced by the owner, although to remove the display one must remove the glass rear panel while trying to fight the adhesive used to manufacture the handset.
Among the chips found in the assembly were those produced by Samsung, Qualcomm,
Qualcomm acquisition target NXP
, Murata, Maxim, Toshiba and Skyyworks.
source:
iFixit