Galaxy S9 and S9+ batteries allegedly revealed... don't get too excited
43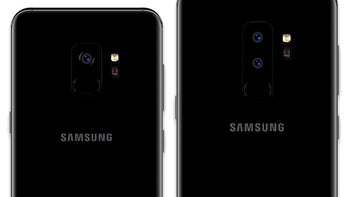 A large battery — that's every phone owner's dream. But manufacturers also want to make their devices slim and elegant. So, there's a fine balance that needs to be struck — make the device thin enough but don't sacrifice too much of its battery life. Samsung's
Galaxy Note 7
is a perfect example of why one should be careful with this balance — the device had too small a compartment for its battery, which was sort of the general reason behind the whole
exploding Note debacle
back in 2016.
So, with the
Galaxy S8
,
S8+
, and
Galaxy Note 8
, Samsung played it safe and didn't go with crazy capacities or anything. The regular S8 had a 3,000 mAh cell, the S8+ sported a 3,500 mAh one, and the Note 8 had a 3,300 mAh juicebox. Lots of powerusers were disappointed at first, but the phones turned out fine, capable of holding their own in the battery life category. Still, many hoped that Samsung would pack bigger cells in its 2018 top-tier phones.
Alas, that may not be the case.
A recent leak claims to show the batteries that will be going inside the Samsung
Galaxy S9
and
Galaxy S9+
. The leak is nothing too fancy, really — we just get a few photos of each battery from a few different angles. What's important here is that we can clearly see their capacities printed on their labels.
Sure enough, the Galaxy S9 cell has a 3,000 mAh capacity, while the one meant for the Galaxy S9+ is shown as a 3,500 mAh one.
Now, a leak is nothing certain, so take it with a grain of salt. But, judging by everything we've seen about the new phones so far, it seems their form factor will be very, very close to the one of the Galaxy S8, probably with slightly slimmer bezels. As far as we know, there's no way to install a portal to Narnia in the back of a smartphone and fit a 6,000 mAh battery in it, nor has there been a recent breakthrough in battery construction that would allow a larger capacity in a smaller body.
So, this might very well be legit.