Galaxy S8 may come with 8 MP autofocus selfie camera, as Samsung boosts front shooters in all its phones
12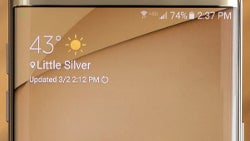 It is apparently not by accident that the
new Galaxy A-series of 2017
has greatly enhanced front-facing cameras, claims Korean media. Samsung has reportedly decided to focus on improvement of the selfie snappers throughout its lineup this year, after it behooved attention to the rear cams in 2016 with the introduction of the exclusive Dual Pixel autofocusing system.
Thus, the
Galaxy A7
and
A5
(2017) come with 16 MP front cameras, which is the same resolution as their main shooters, while the new
A3
has an 8 MP one - all upgrades from Samsung's resident 5 MP front camera that was utilized last year en masse, including in the
Galaxy S7
and S7 edge. For the
Galaxy S8
, however, Samsung is allegedly prepping an even nicer surprise - an 8 MP selfie-taker with encoder type autofocus actuator, instead of the usual VCM type, which would allow for a slimmer AF module.
Frontal cameras are typically a fixed focus affair, and autofocusing has been reserved for their rear brethren, but, given the importance of the selfie cameras these days, Samsung has rightfully concluded that this upgrade will be something users need and want. This is not the first time we are hearing that the
S8 will get rid of the fixed focus front shooter
, either, so where there's smoke, there could be fire. The entry-level Galaxy J series is also getting a 2017 refresh this March, claim the industry sources, and will also be receiving a significant front camera upgrade. Good times for narcissistic personalities.