Galaxy S5 Prime with QHD display coming in mid-June as a direct competitor to the LG G3
50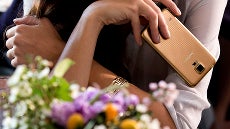 We've been hearing about a new Samsung flagship, codenamed
S5 Prime
, for a while now, and most rumors
pegged it for release in the first half of the year
, namely in the May-June period. The S5 Prime is expected to feature a
premium metallic design
, a
5.2" QHD display
,
Snapdragon 805
, and other goodies that didn't find their way in the
S5
.
If these specs sound familiar, it's because the
LG G3
is expected to flaunt a Quad HD panel and
the latest Snapdragon chipset
, too. Long story short, we are now getting reports from two different sources that
the S5 Prime will be released parallel to the G3
, around mid-June. One of these reports comes from a tipster of ours with access to Samsung reps, who claims that the S5 Prime is intended to be announced as close to the G3's launch as possible, that's why Samsung has been keeping it under wraps so far. One of the Samsung insiders they spoke to, even joked that the S5 Prime will be the real "S5 killer," rather than the G3.
On the other hand, we are getting a separate publication from Samsung's homeland, which claims basically the same thing - that the S5 Prime,
Galaxy KQ
, or whatever it ends up titled, will be released in Korea in mid-June, as a direct response to the Quad HD LG G3. The launch is said to be on the three largest Korean carriers at once, and the S5 Prime's price is pegged to be the equivalent of $880. That's above the current S5 pricing there, but not that outrageously above, if you consider the upgrade in specs offered. As for the rest of the globe, mum's the word on pricing and release date, but, given that the
LG G3 is expected to be announced May 27th
, and launched two weeks after, the eventual S5 Prime shouldn't be far behind, just as the rumors predicted.
Thanks for the tip!