Samsung Galaxy S10+ Q&A: Your questions answered!
8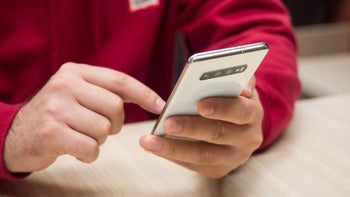 Last week, we gave you the chance to ask us any question related to the Galaxy S10+, S10, and S10e, which officially hit the shelves today. Our review is
available here
for you to read and be informed, but there's always the chance of something that's of great importance to you to have been left out and not discussed. Fret not, as we are ready for another Q&A session. Time to answer your questions and clear out the misunderstandings!
Galaxy S10+ Q&A
Nimbus: "How is the ultrasonic fps compare to optical and especially conventional fps unlock speed?is it slower than conventional fps and optical fps unlock speed?"
PA
: The ultrasonic one is faster than optical in-display scanners, but nothing beats a good ol' physical scanner. It goes like this: physical FP scanner > Ultrasonic > Optical!
sirohunter: "'Still wondering if the s10 has limited time to record 4K 60fps?!?"
PA
: There are no artificial limits in play here. Sure, you might not be able to record super-long videos due to storage concerns, but Samsung has omitted the 10-minute limit that was present on the previous generations.
Symon_Fleece: "Does it have stereo speakers? How is the audio quality and the loudness through headphone jack? Can you use the reverse wireless charging whlie charging the phone (s10)? how much storage is left in 128GB version? What are the pre installed apps that we can uninstall?"
PA
: 1. Yes, it does have stereo speakers. 2. Audio's excellent, no qualms with this one. 3. Yes, you can charge the phone and wirelessly charge your Galaxy Buds at the same time.
aditya90: "What if an aftermarket tempered glass is applied as a screen protector (and not the original Samsung screen protector which I'm guessing is not glass), does it affect the in display fingerprint sensor.?"
PA
: Your mileage may vary depending on the specific tempered glass protector you have in mind - some might work, some might not. Better look out for tempered glass protectors that are ultrasonic-friendly!
gamehdi: "Is there a notification led ? The fast charging is improved or still 15W ? The vibration motor is it improved over the note 9 ? is there a long exposure mode?"
PA
: There's no LED notification light present. The end of an era for Android devices is sadly upon us, and you will have to resort to the always-on display to check on your notifications. The vibration motor is a bit snappier than the one found on the Galaxy Note 9, which is great! On the topic of long exposure, we are happy to report that you can use a long exposure of up to 10 seconds in Pro mode.
PhoenixFirebird: "How're apps and games with that display hole?"
PA
: They successfully ignore the punch hole and don't interrupt the functionality of apps and games. As we said in our review,
"Samsung's unorthodox solution hasn't broken the looks or functionality of any apps or games we've run on the Galaxy S10+ so far. They simply ignore the cutout and the area to the side of it, with rare exceptions such as Google Maps stretching all the way up to the top of the screen. The front camera can be "hidden" by applying a black background to the status bar, but that doesn't look pretty."
Sparkxster: "1. How does the battery life compare across all three S10 models? 2. Why isn't prism green available in the US? 3. How does one UI compare to previous flavors of Samsung Android? 4 Does the s10 software feel optimized? 5. Is it a worthwhile upgrade from the s8/s8+?"
PA
:
1.
This will be addressed in the full reviews of the S10 and S10e. So far, the S10+ has fared similarly to the Note 9 in terms of battery life.
2.
You should ask Samsung!
3.
OneUI is by far the best stock software to ever grace a Samsung phone, bar none.
4.
Yes, it does. 5. Depends - if your S8/S8+ feels dated to you, then sure, the S10/S10+ will be more than a worthy upgrade. On the other hand, if that S8 is still treating you well and the S10 isn't particularly enticing, you should probably hold off on upgrading.
ZYLAM: "Do the S10's have always Listening Google now? Can you just say hey Google what's the weather while it's laying on a desk, not connected to the charger or a dock."
PA
: Unlock with Voice Match, a core Google Assistant functionality, can definitely be used on the S10 series. However, it's insecure (but aren't we all?) and others might succeed in unlocking your voice. After you unlock your phone, you can continue your queries to the assistant provided that the "OK Google any time" feature hasn't been disabled.
pooma:
"is there any improvement in video quality( and image quality) as compared to note 9?because by looking at samples, It doesn't seem any improvement"
PA
: The overall quality of both stills and videos is largely the same as the Note 9. That's not a bad thing, of course, but we feel that there's always some room for improvement. Of course, the major differentiating factor between the S10+ and the Note 9 is the super-wide camera of the former which is very fun to use despite its shortcomings (no OIS and no autofocus, noisier images).
Alter: "Can it be used with Gear VR? How does the pinhole camera affect VR?"
PA
: Yes, it can be used with Gear VR. As logic suggests, your view will be obstructed in the area of the punch hole, but what are you going to do...
Rajkamal: "1) yesterday I met a Samsung sales trainer, he said and I quote " Galaxy S10 plus technically support 21w charging, but we are not advertising it because of the battery issues we had before" and he also made clear s10 or s10e can't do 21w charging. What do you guys think about this? 2) does Ultra wide camera on Galaxy S10 have dual pixel Technology and if not will it make a difference while comparing it to its primary camera"
PA
: It wouldn't be surprising at all if the Galaxy S10 lineup has been over-engineered to accept a greater charging input than advertised, but if Samsung has decided to play it safe by limiting the charging speed, then we'd trust them with doing the right thing. Nobody wants the Note 7 fiasco to repeat itself in one way or another, right?
Glottis: "Developer settings available? If yes, Can you change the dpi?"
PA
: Just like any other Android device, the Galaxy S10 lineup has developer settings available after tapping the build number entry in software info a couple of times. You can't change the DPI without resorting to ADB, but you can change the density of the interface elements by heading to Settings > Screen Zoom.