Galaxy Note vs Skyrocket HD vs Exhilarate vs Burst vs Xperia ion: specs comparison
22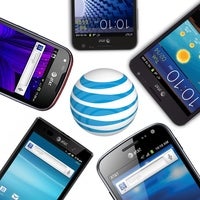 A whopping
five Android smartphones with 4G LTE support
– that is what AT&T unveiled before our eyes mere hours ago. And looking at their specs sheets, there seems to be an offering to suit everyone's needs: from budget-conscious consumers to smartphone aficionados.
Those who aren't sure whether it is a tablet or a smartphone that they need can check out the
Samsung Galaxy Note
, which is a blend between both worlds. It offers a spacious
5.3
-inch display with an impressive resolution of 800 by 1280 pixels, yet perhaps you can fit it in the inside pocket of your coat.
Moving along, we see the
Sony Xperia ion
, which is the company's first smartphone with a dual-core processor – a Snapdragon chip clocked at 1.5GHz. What occupies its front side is a 4.6-inch display of an HD kind with a resolution of 720 by 1280 pixels. Not to be forgotten is its 12-megapixel camera that can capture 1080p video with ease.
The
Samsung Galaxy S II Skyrocket HD
is another offering with a high-resolution display. Its Super AMOLED display measures 4.65 inches in diagonal and sports a resolution of 720 by 1280 pixels. Under its hood we find a 1.5GHz dual-core processor and an 8-megapixel camera is located on its back.
Leaving high-end handsets aside, we come across the
Pantech Burst
, which is a reasonably-priced Android smartphone with some pretty decent specs. For $50 on-contract you get a device with a 4-inch Super AMOLED display, 480 by 800 pixels in resolution, and a dual-core processor clocked at 1.2GHz. Capturing those special moments is its 5-megapixel camera, and the 2-megapixel front-facing shooter is perfect for video chats.
Last on our list is the
Samsung Exhilarate
– a device that we don't know much about in terms of specs, but we do know that it is built with the environment in mind. It is constructed out of recycled materials and complies with a number of requirements for sustainability. The front side of the Samsung Exhilarate is occupied by a 4-inch Super AMOLED display, and a 5-megapixel camera can be found on its back side.



Samsung Galaxy Note
Sony Xperia ion
Samsung
Galaxy S II Skyrocket HD
Pantech Burst
Samsung Exhilarate
Platform
Android 2.3 Gingerbread
Android 2.3 Gingerbread
Android 2.3 Gingerbread
Android 2.3 Gingerbread
Android 2.3 Gingerbread
Display
5.3", 800x1280
HD Super AMOLED
4.6", 720x1280
4.65", 720x1280
HD Super AMOLED
4.0", 480x800
Super AMOLED
4.0"
Super AMOLED
Processor
1.5GHz dual-core
1.5GHz dual-core Snapdragon
1.5GHz dual-core
1.2GHz dual-core
unknown
RAM
1024MB
1024MB
1024MB
unknown
unknown
Rear Camera
8MP,
1080p video recording
12MP,
1080p video recording
8MP,
1080p video recording
5MP,
720p video recording
5MP,
720p video recording
Front Camera
2MP
1.3MP
2MP
2MP
2MP
Storage
16GB,
Expandable
16GB
16GB,
Expandable
16GB,
Expandable
unknown
Connectivity
3G, LTE, HSPA+
3G,
LTE
3G, LTE, HSPA+
3G,
LTE
3G,
LTE
Battery
2500mAh
unknown
1850mAh
1650mAh
unknown