Galaxy Note II: last minute round-up
17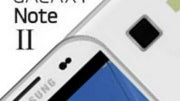 OK, guys and gals, there are only a few days left until the official introduction of the Galaxy Note II, and you don't want to be caught by surprise when all info about the device becomes available to the world, right?
So how about we do a quick round-up here, reminding ourselves of exactly what the Galaxy Note II is expected to be! What you can read below is an updated and improved version of our Note II specs preview that we did earlier. Of course, some things have changed since then, so there's a pretty good reason to go through it even if you've already read it.
Design
No much is known about how the Galaxy Note II is going to look, although we guess it's relatively safe to assume that it'll be somewhat similar to its predecessor. Still, we've heard that it may come in a slightly narrower, thinner, and taller body, compared to the original Note, which wasn't impossible to hold with one hand, but didn't provide the most comfortable experience possible either. Still, some seem to believe that Samsung might take a slightly different approach with the Note II, taking cues from the current flagship - the
Galaxy S III
(probably not such a good idea). Whatever it ends up looking like, we can be completely sure that there will be an improved stylus for hand-written note-taking.
Display
Most unofficial sources that have revealed info about the display of the Samsung Galaxy Note II agree that the device will come with a 5.5" panel.
Although there were some quite optimistic rumors going that the new Note will come with a spectacularly high resolution of 1050x1680 pixels, we don't think this will happen. It sounds as a bit of an overkill, and... well, even Samsung's tablets don't have such a high resolution.
The resolution of the Note II will most probably be the same as on the original one - 800x1280 pixels. In addition, though, it's rumored that Samsung will use a Super AMOLED HD Plus display, which would mean that the screen will have a standard RGB matrix, instead of PenTile, which in turn means better image quality compared to the original Note.
Flexible screen? Nope, not yet.
Processor and Memory
It's almost certain that the chipset of the Note will not be anything unseen. We believe that the gigantic smartphone will sport a quad-core Exynos 4412 processor, the same that's found on the Galaxy S III. Of course, this isn't a bad thing, as this CPU is still among the best out there and will remain relevant for quite some time.
On the GPU side of things, the Exynos 4412 will sport the Mali-400, which has already proved its prowess in the Galaxy S III.
The RAM memory on the Galaxy Note II will probably be 2 GB, as it seems this is being established as the new standard in terms of RAM on a smartphone.
Camera
We're willing to believe that the sensor of the Note II will be an 8-megapixel one. That said, Samsung might as well surprise us with something more 12MP-like, but the chances aren't too big.
Actually, we won't be surprised at all if the camera is exactly the same as the one of the Galaxy S III, which in turn is almost identical to the one of the Galaxy S II. While this isn't such a bad thing, we think it's finally time to see some improvement in the camera field that would further close the gap with point-and-shoot (contrary to what some may believe, cell phones are still lacking compared to the trusty dedicated cameras). Anyways, we can be pretty sure that the Note II will take great photos, for a phone.
Of course, the handset will also have a front-facing camera for video chats and noisy self-portraits, but we haven't heard of any specifics, though anything around the 2-megapixel mark should be a pretty close guess.
Operating system
Although there has been more than enough time between the launch of Android 4.1 Jelly Bean and the Note II, we somehow can't get this thought out of our heads that the Note II will launch with Android 4.0 Ice Cream Sandwich. That wouldn't be such a catastrophe, of course, since ICS is still a wonderful OS, but that Jelly Bean update better arrive quickly.
But let's not underestimate Samsung that much. Here's to hoping that the manufacturer is to surprise us with a Jelly Bean handset from the get go! Whatever the OS version is, though, we can be sure that there will be TouchWiz UI on top, and a very Nature-inspired one at that. The latest version of the TouchWiz interface was a very important update to Samsung's custom software experience, which added some visual goodness, improved the smooth performance even further and introduced some cool features.
Release date
After its announcement on August 29, the Note II is expected to go on sale sometime in October, which isn't an outstanding achievement by Samsung, but the delay between announcement and launch is still tolerable.
Stay tuned for our August 29 coverage, when we'll tell you all there is to know about the
Samsung Galaxy Note II
! While you're waiting, though, why don't you take a look at the Galaxy Note II mock-ups that leaked during the last couple of months. Which one do you think will turn out to be the closest to the real thing?
Recommended Stories