Galaxy Note FE now for sale in South Korea with Bixby on board
13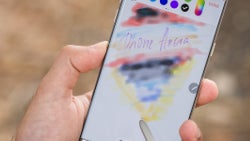 Samsung's ill-fated
Galaxy Note 7
has finally been resurrected in its final form — the Galaxy Note FE. The new S Pen-toting phablet bears the same design as last year's beast and — since it's built from the returned and recycled Note 7 units — mostly the same hardware, save for the battery and the processor. To be extra, extra safe, Samsung has downgraded the Note 7's 3,500 mAh cell to a 3,200 mAh one to put inside the Note FE. The SoC has been slightly upgraded to Snapdragon 821, from the Snapdragon 820.
After a long wait, the
Fan Edition
has finally hit store shelves in South Korea. There are 400,000 units spread to the country's three mobile carriers. Its price tag is around $606 (₩699,600), which is about $260 (₩300,000) cheaper than what the Note 7 costed at launch.
The new phablet also comes with Sammy's Bixby assistant on board, though, it'll have limited functionality. Bixby Home and the reminder features will remain intact, but the Bixby button, voice recognition, Bixby Vision will be omitted. Will they be missed, though?
The Note FE will probably stay in South Korea
At the moment, there are no reports of Samsung planning a second wave of Note FE devices, nor is anything said about it coming to international markets. We kind of don't expect it would, really — given how close the
Note 8
is to release and the bitter memory of the Note 7, the FE might go unnoticed by customers in the West. Either that or it might cannibalize the Note 8's sales by being a direct competitor while drastically undercutting its price. The Note FE does make sense in the context of the South Korean market, where the Samsung fandom is strong, and even there it'll probably gain more interest if it has a "limited edition" status (which it seems to have).
In any case, would you buy a Note FE for $600 if it happens to cross your path?