Galaxy Note 8 vs iPhone 7 Plus: first look
37
Mobile tech has fallen under a heavy curse this year... so many incredible products to choose from! Really, it's such a strong cycle for most major brands, that we pity consumers for having to purchase
just one
device! Not only that, but things are bound to get even worse, because Samsung has just introduced another top-shelf smartphone – the Note 8. Not cool, Samsung, not cool.
Another
promising smartphone to compete for our hard-earned cash. And before the
iPhone 8
has arrived, finally bankrupting many a household across the globe, let's see how this new
Galaxy Note 8
baby handles itself against Apple's current top big-screen smartphone, the
iPhone 7 Plus
.
Design and Display
Samsung and Apple have different approaches when it comes to external design. Samsung prefers iterative, year-to-year updates, while Apple usually comes up with a forward-looking design which it then uses for at least a couple of years. Right now, Apple's
iPhone 6
/ 6s / 7 design is obviously close to running its course, which puts it at a slight disadvantage against Samsung's current Note 8 styling, for a couple of reasons:
1) Samsung has significantly reduced the bezels around the screen, and in the case of the Note 8, things are pretty symmetrical, so it looks great. Apple's iPhone 7 Plus, on the other hand, doesn't utilize frontal space too efficiently, by today's standards, keeping considerable top and bottom bezels, making the device larger than it needs to be. It still looks very nice, but is something that's going to be addressed in the next iteration of the iPhone. Not only do thinner bezels look more modern, they also mean the manufacturer can choose to fit a larger display in the same space, which is exactly what we have in this case, with the Note 8 having a significantly taller panel, allowing for more content to be shown at a time.
2) The other major difference is found with the materials in use: Samsung was never into the whole metal game, so back in 2015, it made the switch from plastic straight to glass, using metal only for the side frame of its handsets. Its initial attempts with glass weren't entirely convincing, but it had time to refine its styling, so now the Galaxy Note 8 comes in this nice assortment of mature color tones, with the whole phone surrounded by an equally nice polished metal frame. It's all very glossy, nice and easy to grip, and, of course: way easier to crack or break, compared to the iPhone 7 Plus' metal housing. However, the iPhone 7 Plus' clean, matte metal unibody (except for the Jet Black variant) now looks somewhat dry and not as extravagant as the Note 8's shiny exterior. Again, this is one thing that Apple's going to address with the upcoming iPhone generation in a few weeks, but for now, this is how things stand.

Both the Galaxy Note 8 and iPhone 7 Plus are certified as water- and dust-resistant, with IP68 rating for the Note 8 and IP67 for the iPhone 7 Plus. The actual difference in these certifications isn't big, and we've seen the iPhone 7 actually outlive the S8 when submerged deep under water, so success will depend on case and luck. In any case, it's great to have the confidence that both handsets should easily survive a spill of a drink (or a few!) on them. Beautiful and tough – these guys seem to have conquered all frontiers!
Samsung Experience vs iOS 10
iOS is the iPhone's biggest asset. To be really successful in mobile, you need to have a solid platform. The only two companies who own such platforms are Apple and Google. All Android manufacturers are at a disadvantage against Apple from the get go, not only because they are at the mercy of Google, but also because they need to conform to guidelines and strategic decisions made by Mountain View. One of the results of this setup is that Android manufacturers have historically tried to differentiate their products by developing their own user interfaces. Samsung has always been among the vivid supporters of this practice, and we can't fault it for that. However, developing custom software and consequently adapting it to new Android OS versions has proven to be too much of a pain for most Android phone makers, which is why most of those guys have fallen back to close-to-stock software experiences, with only slight modifications here and there. This has, of course, improved the usability of their products, but also reduced their uniqueness.
Not Samsung. This remarkably tenacious company has shown it knows how to reach and woo consumers in its own, unique way, in this meant keeping its own custom UI. We've long criticized Samsung for its incredibly bloated and inefficient TouchWiz software, and they've continually worked to improve and optimize it, but never remove it, which we believe has been the right choice. And look at the Samsung Experience (the new name of TouchWiz) now! With this latest generation of devices (S8 and Note 8), the company has completely overhauled it with new iconography and modern interface design vocabulary. And with the Note 8, Samsung turns up the eye candy even more, with a beautiful new lockscreen animation. Our hands-on time with the Note 8 thus far has revealed no out-of-place elements, although some of the more productivity-centric features do need some practice to get used to: like setting pre-defined app pairs for multitasking, for example.
It's S Pen and Multi Window vs care-free and content creation
And this brings us to the Galaxy Note 8's main area of expertise, which is productivity. Right from the start, the Note 8 is a comfortable machine to work on, due to the sheer size of the display. Its tall aspect ratio, however, also makes it suitable for dual-app multitasking, where you can view two apps side by side at the same time. Samsung has also enabled drag-and-drop functionality across some apps, like Files and Internet, for example, to further cement the Note's status as a smartphone to get work done with. Of course, the S Pen is a big asset here, allowing you to easily take notes, or interact with web sites and content in a variety of empowering ways.
So how does iOS 10 (soon to be replaced by iOS 11) compare? Well, Apple has also been doing an awesome job over the years at keeping iOS relevant and improving it in meaningful ways. Nowadays, iOS 10 offers a modern visual design and sticks with the same "even your mom can use it" principles. Unlike the Note 8, its built-in productivity features and the S Pen, however, Apple's iOS 10 brings the consumer's apps to the forefront. The powerful and refined app ecosystem is backed up by the versatile and reliable first-party software that comes with iOS 10. What's more, Apple's own iWork and iLife suites are incredibly capable additions which can greatly expand the range of what you can do on your iPhone, from music creation with GarageBand to 4K video editing with iMovie. In terms of file management, you need to install third-party software right now, but iOS 11 will introduce Apple's own Files application.
Galaxy Note 8 vs iPhone 7 Plus: dual-camera wars

Users have been enjoying the benefits of the dual-camera system Apple has installed on the iPhone 7 Plus for a while now, getting acquainted with how to use features like Portrait mode and optical 2x zoom. Now, for the first time with the Note 8, Samsung is joining the dual-shooter party as well. Generally, what Samsung does here is pretty similar to Apple's implementation, 2x zoom and portraits included.
There is one major difference, and that's the ability to change the focus point in a picture after the fact. You can do this from the Gallery app. You can also adjust the amount of background blur (bokeh) effect that you want, if you're working on a portrait shot.
Expectations
When it comes to winning in the novelty area, the Galaxy Note 8 is clearly in the lead, but it's also clear this will be a short-lived victory. Very soon, the iPhone 7s Plus and the iPhone 8 are going to come out, and those guys will most probably equalize things or simply leapfrog what Samsung has on offer here. However, we definitely don't expect the Note 8 to become irrelevant or anything anytime soon. It is a superb smartphone with loads of ambition and capabilities to draw quite a few customers in.
There is an important point to make here, though. Samsung knows the Galaxy Note 8 is a power-user affair. It knows it's selling the Note to a special group of users who want to squeeze every bit of general productivity they can out of their phones. It remains a niche device, now more than ever after the Note 7 fiasco and the new, extra-large dimensions. Meanwhile, Apple's iPhone 7 Plus is selling to a much broader audience. True, distribution numbers between the 7 and 7 Plus aren't quite 50-50, but they aren't exactly a world apart either. And by staying true to its current direction of consumer-first features, such as the dual-camera and Portrait mode, as well as covering the content creation bases with top-quality apps like GarageBand and iMovie, the 7 Plus (and its soon-to-arrive successor) is much more of a mainstream (read: popular) choice, despite its imposing dimensions.
This is an intriguing face-off, and one that continues to lack a clear winner. Both sides have their strengths and weaknesses, and here, again, your platform preference may be the single biggest factor influencing your choice. You know what the best thing is? You really can't go wrong this time.
Galaxy Note 8 vs iPhone 7 Plus gallery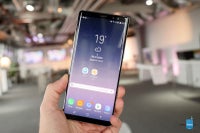 DON'T MISS THESE!
VIDEO

|

GALAXY NOTE 8 HANDS-ON