Galaxy Note 8 vs LG V30: both big and powerful, but here's how they'll differ
50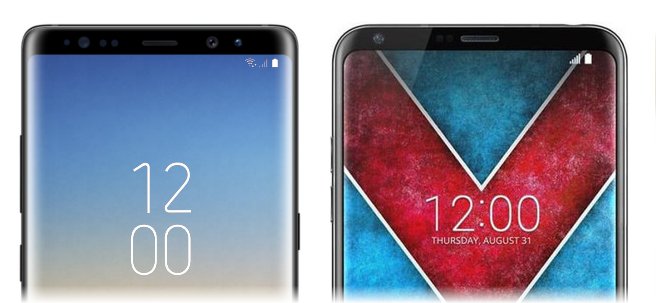 They're big, they're powerful, they're... not quite official yet, but are the two hottest Android phones on the release radar. Of course, we're talking about the
Galaxy Note 8
and the
LG V30
, both of which have been making headlines for months. Expected to launch in September, these two devices will have a lot in common – in terms of size, appearance, hardware and features. But they'll be also different in many ways. Join us as we go over what we know about the two so far, thanks to the numerous leaks and rumors that have surfaced.
Design
When it comes to appearance, both phones could end up looking very similar. Color options aside, the
Galaxy Note 8
and LG V30 are expected to be protected by Gorilla Glass 5 on the front and on the back, while a sturdy metal frame wraps and holds them together. Also, both are highly likely to sport super-slim bezels around their screens for that modern, "bezel-less" look. Both will be dust- and water-resistant, both will have 3.5mm audio jacks, and both will have on-screen navigation buttons, according to the leaks and rumors that we have so far.
One notable difference, however, is that the Galaxy Note 8 will come with an S Pen stylus – a staple for the brand since the first model's introduction. It isn't looking like the LG V30 will have an answer to that, but we don't see this as a deal breaker.

Another thing to have in mind is that the Galaxy Note 8 could be bigger than the LG V30 in order to accommodate a larger 6.3-inch screen. The V30 is expected to have a relatively smaller, but still quite spacious 6-inch display.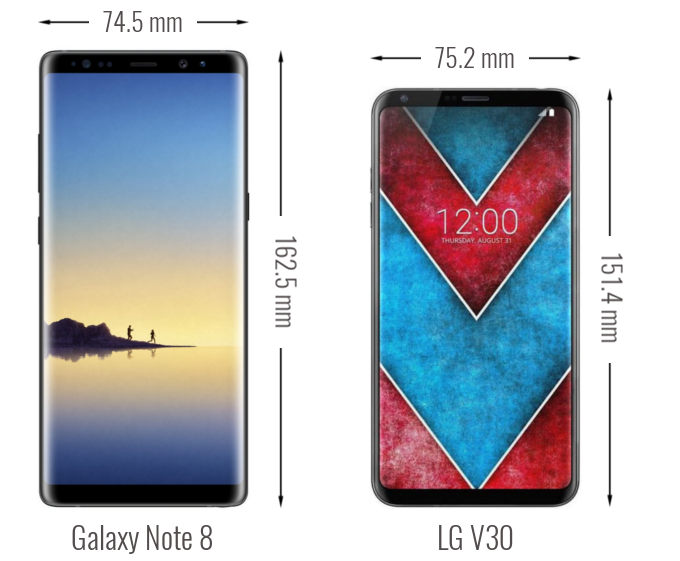 It is also worth noting that both phones will have their fingerprint scanners placed at the back. However, while the V30's will be placed down the phone's middle, where the user's finger is naturally going to rest, the one on the Galaxy Note 8 will be lined up with the camera and the heart rate monitor, much as it is the case with the
Galaxy S8
. This placement would be far from ideal, it seems.
Speaking of buttons, it looks like the Galaxy Note 8 will have one dedicated to Bixby, Samsung's virtual assistant. The LG V30, which will most probably rely on Google's Assistant instead, doesn't seem to have a button bound to it.
Display
First, a quick run through the specs. Rumor has it that Samsung has chosen a 6.3-inch display for the Galaxy Note 8, with 1440 by 2960 pixels of resolution. Meanwhile, the LG V30 is expected to sport a slightly smaller, but equally detailed 6-inch display with 1440 by 2880 pixels. With aspect ratios of 9:18.5 and 9:18 respectively, the two screen panels will be taller and narrower than traditional, 9:16 phone displays.
The screen on the Note 8 may have what Samsung calls an Infinity Display, meaning that its left and right sides would be slightly curved for aesthetic reasons, much like what we have on the Galaxy S8 and S8+. The glass covering the V30's display might have slight curves to it near the edges, but the panel itself might end up being flat from edge to edge.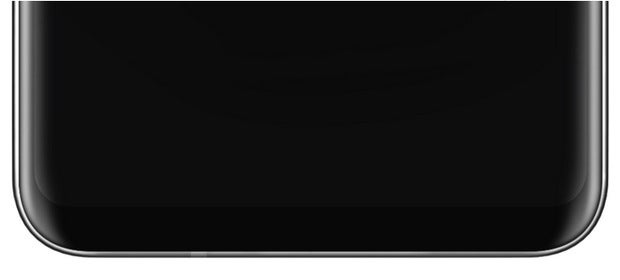 Size and shape aside, the two displays are expected to have a lot in common. They both should be capable of displaying HDR10 content, they both will support always-on display functionality, and we're quite certain that they will both be based on AMOLED technology. It should be pointed out that the secondary screen, as found on the V10 and V20, has been dropped for the V30, but the functionality could still be there thanks to a function bar displayed on the main screen.
Software and functionality
Whether they run last year's Android Nougat or the the fresh and new Android 8.0 O at launch, one thing is certain: the two will have their makers' custom software pre-loaded. On the Galaxy Note 8, the experience is likely to be similar to what we've seen on the Galaxy S8 already, with enhanced split-screen multitasking, facial recognition and iris scanning for added security, and Bixby built into the UI. Plenty of features taking advantage of the Galaxy Note 8's S Pen are surely to be present as well, including the neat option to take down a memo even if the phone is in standby.
Meanwhile, the UI on the LG V30 could be close to identical to what's already running on the
LG G6
, but with a few welcome additions, such as the option to use facial recognition instead of a fingerprint as a means of locking the device. As the V30 is expected to be a multimedia device, we're also guessing that the advanced sound recorder application we saw on the V20 will make an appearance.
Processor and memory
The Galaxy Note 8 and the LG V30 are expected to be equally capable when it comes to raw processing power. In the US, both are expected to be powered by the Snapdragon 835, which is Qualcomm's fastest chip available right now. 64GB of fast, UFS on-board storage is expected to be available on both, along with a microSD card expansion slot, and models with higher amounts of space could be available in select markets. The situation with RAM is a bit of a mystery for now, but we won't be surprised if both phones ship with 6GB of the stuff.
Camera
By now we're pretty sure that both the Galaxy Note 8 and the LG V30 will sport dual cameras. Their setups will be comprised of a main, all-purpose camera plus a secondary cam. Their secondary cams, however, are expected to work in opposite ways. It is said that the Note 8 will employ a telephoto lens to provide 2x zoom in cases when you want to bring your subject closer, while allowing a Portrait Mode (background blur) effect to be applied when desired. In contrast, the LG V30's second cam will have a wide-angle lens. This will allow one to fit a whole lot more into the frame without having to step back, but at the expense of some GoPro-like distortion.
The specs of these cameras aren't known with certainty yet, but it is believed that the Note 8 will pack two 12MP cams while the V30 will use a couple of 13MP image sensors. It is worth noting that the LG V30 will use an F1.6 aperture for its main cam, meaning that it could be more sensitive to light should Samsung stick with an F1.7 aperture as it did for the Galaxy S8. That LG will use a glass lens instead of a plastic one is also worth noting.
On the software side, we know that LG will throw a lot of features into the V30 in order to position it as a phone ideal for both photo and video capturing. It is likely to support recording in professional video formats and could come with its own video editor.
Nothing is known about the phones' selfie cams at this time, but our guess is that the Note 8 will stick with the 8MP autofocus camera found on the Galaxy S8, while the V30 will retain the wide-angle-lens selfie shooter from the G6.
Battery and charging
Not long ago, a leak exposed what is claimed to be the battery meant to go inside the Galaxy Note 8. It was rated at 3300mAh, which might sound somewhat disappointing given that even the
Galaxy S8+
has a bigger cell. As for the LG V30, your guess as to how much juice it would carry is as good as ours, but the figure should be above the 3300mAh mark. That's how big of a cell is fitted inside the LG G6, and it would be odd for the V30 to carry a smaller one.
As far as charging goes, we have zero doubts that both phones will support quick charging. We're also willing to bet that the two will be capable of charging wirelessly.
Galaxy Note 8, LG V30 price and availability
And now it is time for the $50,000 question: when will we be able to get one of these? Well, what we know with certainty is that the Galaxy Note 8 is to be announced on August 23, while the LG V30 will make an official appearance at IFA on August 31. Their launch dates are more of a mystery, but it is speculated that both are scheduled to launch on September 15 in their homeland of Korea. Their US launch should follow soon after.
Price-wise, don't expect any of these two to be cheap. It is claimed that the Note 8 price might hover around $900, which is quite steep, even for a phone of this grade. This, however, could be the cost of a model with higher-than-base storage capacity. As for the LG V30, a launch price of around $700 is not out of the question, as that's how much its predecessor, the V20 cost last year.