Galaxy Note 10 to one-up the iPhone XS Max with the largest ever display on a Note
22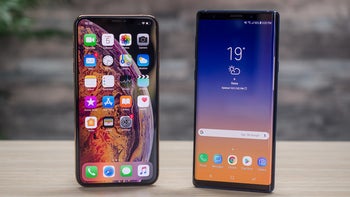 Out of nowhere for Samsung, its
Note 9
member of the family that started the whole "phablet" category, is now with a smaller screen than Apple's largest
iPhone XS Max
, at least on paper. Apple advertises the 6.46" display as a 6.5-incher, while Note 9's 6.44" panel has to be listed as a 6.4-incher. Damn you, math laws for rounding up!
Samsung is determined to right this wrong, it seems and has placed orders to its display subsidiary for a 6.66" OLED display that will go into next year's
Galaxy Note 10
, reports Korean industry media today, citing insider sources.
The current 6.4" panel of the Note 9, on the other hand, would eventually make it into the largest member of the rumored
Galaxy S10 trio
of phones, the
S10+
, or whatever Samsung names it. The codename given to the handset by Samsung is
tipped to be DaVinci
, hinting at a start of its development, and some general idea what it will stand for, given that the name belongs to a famous artist.
Now, a 6.7" display may sound like an overkill and lead us to an enormous handset, but the Note 10 is also rumored to
arrive without a 3.5mm audio jack
, so there could be drastic design changes as well. Instead of planting a notch on top, and saying "look, Ma, a 6.7" panel," Samsung could slim the bezels even further, and end up with a Note 10 that is almost completely screen at the front.
The manufacturer will most likely refrain from the notch-y way, too, as it is now one of the few major manufacturers whose phones stand out in a sea of unsightly top bezel protrusions. Samsung showed that stellar screen-to-body ratio can be achieved notch-less, with the flagships it released this year and could double down on this trend next year. In any case, we are excited that there will be a Note 10 at all, after the rumors that Samsung
may be merging
the Galaxy S and Note lines.
Recommended Stories