Galaxy A7 is official, Samsung's first triple-camera phone, a harbinger of Galaxy S10
78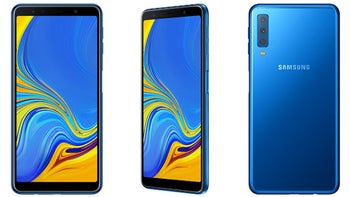 And so, it's official. Samsung's
long-rumored
first phone with three rear cameras, that is. The world's largest phone maker just issued a press release announcing a
Galaxy A7
(no year notion this time).
Lo and behold, the A-series device does have no less than three camera sensors on the back, making it the first popular midrange line to include such a setup, and, perhaps, an indication what we are to
expect from the Galaxy S10
.
Galaxy A7 Cameras
Three (24MP+8MP+5MP) for the road, one 24MP for the road warrior's selfies
While the eventual S10 is said to sport a main, a wide-angle, and telephoto cameras, the A7 makes do with one extra 8MP sensor with a wide-angle lens, and one 5MP for depth perception.
The main A7 sensor, however, is a rocking 24MP with pixel-binning technology, similar to what Huawei does on the P20 Pro, combining the information gathered by four pixels into one, presumably with higher detail, exposure and color quality. The kicker, however, is that Samsung is using the binning tech for low-light shots
The 24MP unit and the so-called Depth Lens work in tandem to achieve next levels of Samsung's Live Focus feature which is glorified bokeh with adjustable depth of field levels post-shot. This promises some pretty svelte portrait photos out of the midranger but we'll save judgment for our actual samples with the device.
Here comes the last, 8MP rear camera. What does it do? Well, Samsung calls it an Ultra Wide Lens, so its tasks are baked right into the title, and mean a 120-degree field of view, for those moments when you can fit the whole barn and its surrounding meadows, or your friends in a tight party room wholesale in the frame. This is similar to what LG does with the G7, though that one's wide lens covers 107 degrees.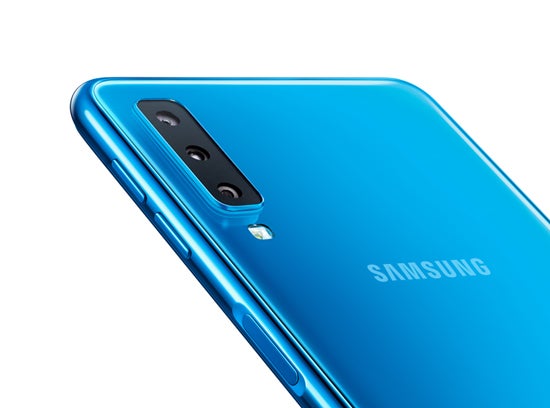 In a phone that touts camera prowess, Samsung hasn't forgotten the all-important selfie shooter at the front, too. It is a 24MP affair, too, complete with Selfie Focus for bokeh-ed portraits, Pro Lighting mode for imitation of studio lamps, and even an "adjustable" LED flash for the times when faux studio luminance doesn't cut it. It's all tied up by Samsung's Scene Optimizer that adjusts all components for a good shot automatically and includes rich scene recognition options for the rear cameras, which Samsung is careful not to call AI, and we are eternally grateful for that level of caution.
Design
The midranger is made out of premium glass material and comes in blue, black, gold and pink - plenty of options for every taste. The funky part is that the finger scanner is mounted on the sides, so there is nothing to ruin the front or the back's uninterrupted design flow - save for that vertical triple-camera strip, that is.
The front is adorned with Samsung's Infinity dislpay design, but we don't know if we can still call it that with the thickness of the A7's top and bottom bezels. The gear is quite large at 159.8 x 76.8 x 7.5 mm, and fairly heavy at 168g. Well, at least there aren't unsightly notches to get into the way of a good visual.
Specs and display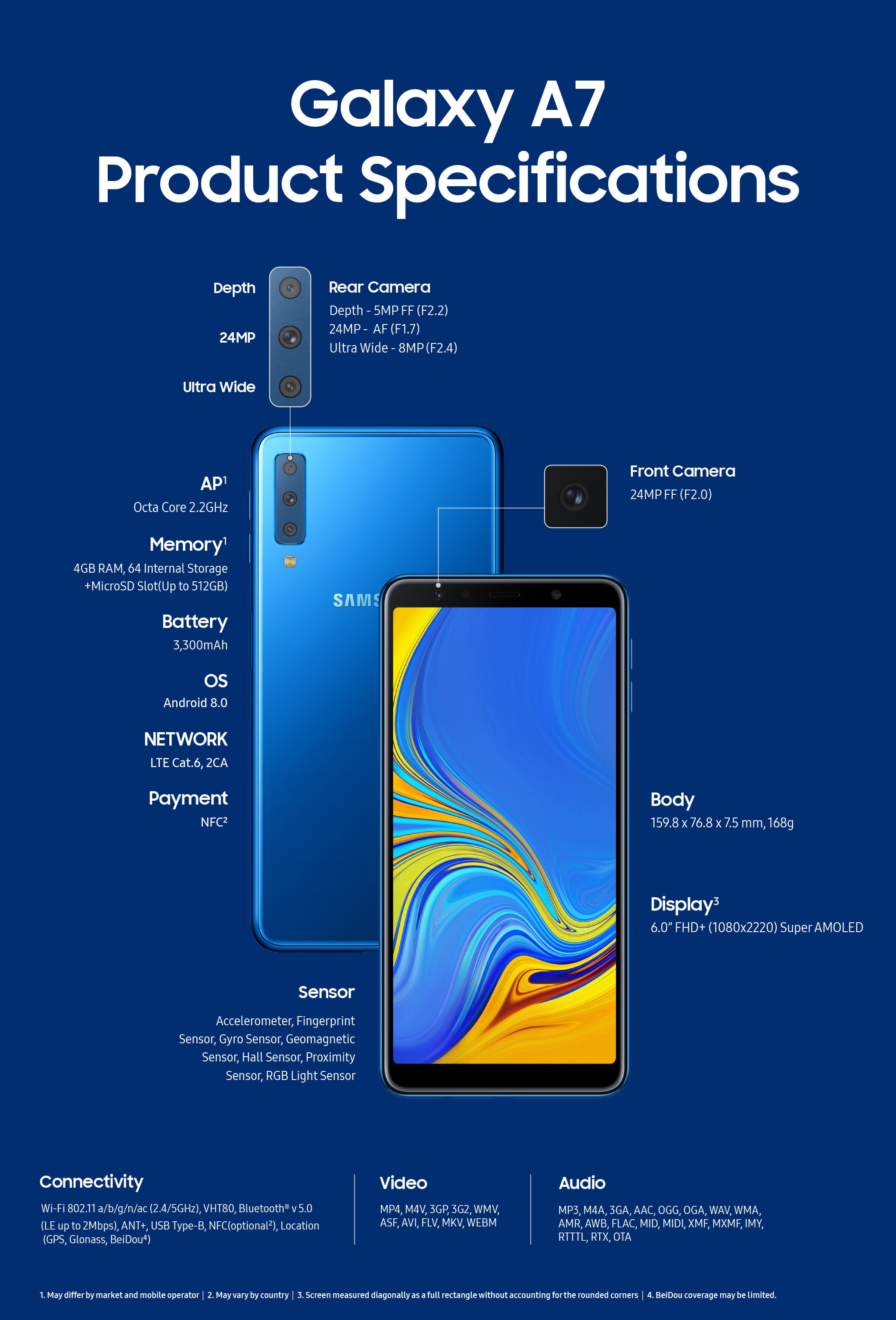 It's the era of 6-inchers, leaning towards the 7" mark, and the Galaxy A7, doesn't disappoint. It sports a 6" 1080x2220 pixels AMOLED display with Samsung's now-signature 18.5:9 aspect ratio. Processing power will be provided by an eclectic mix of octa-core Snapdragons and Exynos chipset, but Samsung says they will vary by region. Android 8.0 Oreo is on board, as the phone has probably been in the labs well before Google released Pie to manufacturers.
Memory configurations include 4GB/64GB with a miscroSD slot, 4GB/128GB, and a 6GB/128GB souped-up model. The 3300mAh battery size is pretty average, but Samsung is doing some good optimizations lately that squeeze every last bit of juice out of humble packs, so we keep out hopes high, as it would be a pity to waste a triple-camera setup on the road for the lack of power. The other ho-hum component is the microUSB port, but fast-charging is a given anyway, you'll just have to fumble a bit more with the connector.
Price and release date
Does the "octa-core 2.2GHz, may differ by market and mobile operator" chipset disclaimer in Samsung's presser mean the A7 is likely to land in America? Not for now, at least, as Samsung told us that it will be available in Europe and Asia "this fall," but will roll out to additional markets in the future, hopefully including North America as well. No exact pricing is mentioned in the official info, but we already saw the European tag leaked to be €348 ($407), presumably for the basic storage version. Does Samsung's first triple-camera phone tickle your fancy at that price?
Recommended Stories