Future B&N NOOKs to have NFC for in-store browsing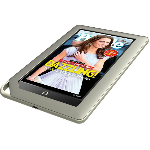 NFC has been one of the most talked about new technologies (new for mobile devices in the United States that is), even though it still hasn't seen adoption really take hold just yet. Google has been one of the biggest proponents, putting NFC chips in the last two Nexus devices, and building the powerful-but-not-so-useful-just-yet Android Beam into Ice Cream Sandwich. Barnes & Noble looks to be the next major player in mobile to leverage NFC.
In a recent interview with Forbes, B&N CEO William Lynch said that future NOOK devices will all feature NFC chips, which will be used to add value for customers who actually visit a physical Barnes & Noble store. Lynch said that the company is planning to work with publishers in order to have NFC sensors built into physical books, so when a customer is browsing the store, they will be able to tap the book with their NOOK and be sent to the content store on their tablet. This will give access to reviews, pricing, and of course allow the customer to instantly buy the book digitally.
Lynch admits that there will be trouble in getting publishers to agree to this as most would expect such a system to kill paper book sales, but Lynch believes that the system would actually increase print sales. He says that the data that B&N has shows that NOOK owners buy more books in total, and do not abandon print for digital. That sounds pretty reasonable, as a more informed customer is more likely to buy, regardless of format. Of course, convincing publishers of that truth is a tall task.
NFC-enabled NOOKs are expected later this year. No word on when or if publishers will jump on board, though maybe that's something that B&N can recruit Microsoft to help with since
MS now has 300 million reasons
to help B&N succeed.