Full service back at T-Mobile following outage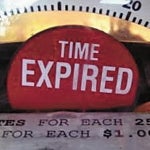 The last few days a few popular apps have run into some weather-related issues that have prevented the apps from working at times. Picture sharing social app Instagram, video streamer Netflix, virtual bulletin board Pinterest and others
were the unhappy beneficiaries of satellite related server problems
, some of which were brought on by the
bad weather in the region
. On Monday, it was T-Mobile that was having problems connecting customers to its network.
In a statement, the nation's fourth largest carrier said that it was a
network data issue
that prevented its customers from starting a data session using its 3G or 4G pipeline, and some of its customers had intermittent data connectivity. According to the carrier, its rapid response engineering teams quickly resolved the problem. The carrier didn't identify the cause of the issue. It certainly had nothing to do with
the T-Mobile U.K. customer who went crackers on Monday
, considering the network outage was in the States, not overseas.
"T-Mobile experienced a network data issue Monday night that affected service for some customers with a 3G or 4G device. Some customers were not able to initiate a data session, or experienced intermittent data connectivity. T-Mobile's data service has been fully restored. Rapid response engineering teams identified and resolved the issue. We apologize for the inconvenience."-T-Mobile statement
source: T-Mobile via
AllThingsD