Full-screen ads coming to Apple iPhone and Apple iPad apps?
20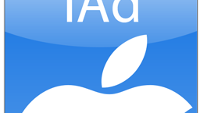 Apple is making changes to its iAds mobile ad platform that would allow full-screen ads to play inside apps for the Apple iPhone and Apple iPad. The ads will look similar to television spots and will play automatically without the user having to click on a banner. Unfortunately, the ads are designed to interrupt whatever you are doing with the app, although most likely they will play during moments of transition in a game, like in between levels.
One source said that Apple would sell the spots through its newly launched ad exchange. The Cupertino based tech titan
first unveiled iAds back in 2010
, charging $1 million for a campaign. That price has since dropped to $100,000 even though Apple has added new features like maps to the ads. According to IDC, Apple brought in $125 million in online ad sales in 2012 compared to the $243 million that Google rang up in online ad sales that same year.
Apple currently has just 3% of the U.S.online ad market, according to EMarketer, with Google owning a whopping 49%. Facebook has a 15% slice of the stateside online ad pie. The (multi) million dollar question is whether these new full-screen ads will persuade more advertisers to throw money at Apple.
source:
AdAge
via
PocketLint