Fujitsu IS12T is certainly not made for Windows Phone Tango
5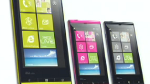 We've told you about the Fujitsu IS12T a couple times before. This was the first device announced to launch with Windows Phone Mango. It will be
waterproof
to survive Japan's rainy season (which we can attest is absurdly rainy), feature an
earthquake warning system
(always a good idea anywhere in the Pacific Rim really,) as well as a 13.2 MP camera, 32 MB of internal storage, and some more average specs like a Qualcomm MSM8655 CPU, and a 3.7" display (480x800). Now, we're finally seeing the price of this nice hardware.
We learned recently that
Windows Phone Tango
will be designed for low-cost devices and will start in Asia, but the Fujitsu IS12T is definitely not a low-cost device. Based on an exchange rate of 76 yen to $1 USD, the prices from KDDI-AU are:
New retail price $958
MNP retail price $753
New price with 2-year contract $458
MNP price with 2-year contract $252
(MNP price is for NTT DoCoMo and Softbank users switching to KDDI)
Sure, the internal storage, camera, and Japan-centric features are nice, but the CPU and screen certainly don't warrant prices like that. Let's hope that if this phone does find its way overseas, the price comes down.