Fruit Ninja update proves that (ghost) bustin makes you feel good
5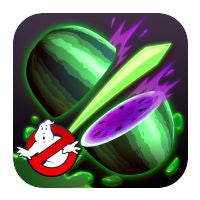 Just in case you're one of those people who gets depressed when you're reminded how long ago your childhood was, here's a good one for you: this year marks the 30th anniversary of the first Ghostbusters movie. In honor of that milestone, there has been a strange mashup created between Fruit Ninja and Ghostbusters in a new update of the fruit slashing game.
Admittedly, a Fruit Ninja/Ghostbusters pairing makes more sense than most of the Angry Birds mashups (Angry Birds Transformers? Really?) The idea behind the Fruit Ninja Ghostbusters update is that there are ghost fruit on the loose, and it's up to you to take them out with your Proton Pack blade. There is even a special move, where you can "cross the streams" once per game and unleash a massive attack.
Fruit Ninja is still quite a fun game, so this update is a no-brainer if you're already a fan. Otherwise, there is a free version you can try out on Android, or the full game costs just 99 cents on either Android or iOS. Fruit Ninja also just got a major update to
version 2.0
, so if you haven't played in a while, there is new stuff to experience.