From now until Sunday, one dollar buys you the Apple iPhone 6s at Best Buy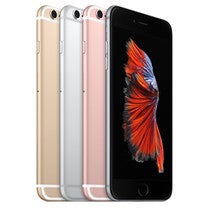 There are a lot of things you can still buy for a buck. You can get a McChicken from McDonalds. In Manhattan, you can get a slice (or two if you're lucky) of pizza. And you can pick up the 16GB
Apple iPhone 6s
from Best Buy. Wait a second. Can that be true? Yes it is. Once again, Best Buy is offering the latest version of the Apple iPhone for just one dollar. The deal runs through Sunday, so if you have the iPhone in your crosshairs, don't procrastinate.
Here is how the deal works. Trade-in a working
Apple iPhone 5s
or better, and you will get at minimum, a $200 gift-card. This will allow you to buy the 16GB Apple
iPhone 6s
for one dollar when you purchase the device with a two-year contract, lease it through Sprint, or use a monthly installment plan offered by AT&T, Verizon or Sprint. The deal is available inside Best Buy stores only. If you don't know where you nearest Best Buy store is located, you can click on the sourcelink and click on the store locator.
While at the store, you might be able to save some money on your phone bill. Best Buy has developed a method that compares carriers' plans for consumers. Best Buy has discovered that 50% of its customers are overpaying for wireless service. From November 8th, 2015 through January 1st, 2016, the company tested the software and found that on average, it saved customers $35 a month. Eventually, this tool will be available on the retailer's website. For now, you have to be in the store to get Best Buy's recommendation on which wireless plan to use. And by coincidence, you have to be inside the store anyway to pick up your 16GB Apple iPhone 6s for one dollar.
Apple iPhone 6s Review
source:
BestBuy
via
BGR