Foxconn slashes overtime to 36 hours a month after Apple's FLA report, workers not happy about it
20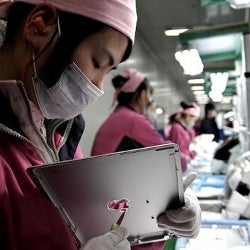 After
Tim Cook touring the facilities at Foxconn
and the
Fair Labor Association coming out with its report today
that there are indeed cases of excessive overtime in its factories, the working hours have been slashed.
Now the overtime hours at the Apple gadgets assembly line can't exceed 36 a month, which amounts to 49 hours a week maximum that employees can man the conveyor belts. Apple has given its backing that this reduction won't affect the salaries, but the Foxconn workers can't really grasp the concept of getting the same pay for less work.
"
We are here to work and not to play, so our income is very important,
" says Chen Yamei, 25, from the Hunan province, who has four years of factory experience now, and is getting paid around 4,000 yuan a month ($634).
"
We have just been told that we can only work a maximum of 36 hours a month of overtime. I tell you, a lot of us are unhappy with this. We think that 60 hours of overtime a month would be reasonable and that 36 hours would be too little,
" she adds.