Foxconn re-opens factory that had been shuttered due to fight
9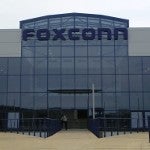 Admit it, you were worried. You read yesterday the story about how the
massive brawl at a Foxconn factory in China
, which involved 2,000 assembly line workers and injured 40, had
shut down production at the plant
. At that point, you were concerned that your
Apple iPhone 5
on back order might never come. Well, we have good news to tell you this morning. Production at the factory, which is said to produce Apple iPhones and
Apple iPads
among other devices, is set to restart with the plant now open again. As for the brief closing of the factory, Foxconn has declined to say if that will affect availability of the Apple iPhone 5. The device
sold 5 million units over its first weekend of sales
and there is now a 3 to 4 week wait for deliveries on orders taken now.
how they are being treated by Foxconn security guards and managers
. Without a process for workers to air grievances about unfair labor practices, violence is the only way that they can speak out.
The four hour fight took place at a Foxconn facility where it is believed that back covers for the Apple iPhone 5 are produced, although others claim that the Nintendo Wii console is the focus of that factory's assembly line. As for Foxconn and Apple, we would imagine that insurance will cover any damage to the factory and any lost business that Apple had been counting on.
"Foxconn, some supervisors, and security guards never respect us. We all have this anger toward them and they (the workers) wanted to destroy things to release this anger."-Anonymous Foxconn employee
source: AP via
SlashGear