Foxconn admits it has hired underage interns, but it's schools that sent them
15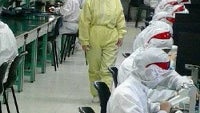 Foxconn has admitted that it has violated the Chinese law by
using the labor of underage workers
(more precisely interns), but it's mostly the fault of the school that sent them. Of course, that's no excuse for Foxconn not checking their ID cards, so it's now rightly getting part of the blame.
"We recognize that full responsibility for these violations rests with our company and we have apologized to each of the students for our role in this action,"
Foxconn explained in a statement.
"Any Foxconn employee found, through our investigation, to be responsible for these violations will have their employment immediately terminated."

The China Labor Watch group was among the first to bring this issue into the public's eye, and while it also admits schools bear the most responsibility, Foxconn is also culpable.
Interestingly, while you'd expect that this has something to do with Apple, you'd be wrong. Turns out, it was the Foxconn Yantai factory that had underage workers (and that means children aged 14 to 16). And Foxconn Yantai is known for making Sony devices actually.
Hopefully, that's an isolated incident. Most recently, Foxconn was accused of hiring underage workers as it needed
more people to make the iPhone 5
.
source:
China Labor Watch
via
Associated Press