Fourth generation iPhone targeting a spring release?
This article contains unofficial information.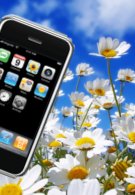 Adverse competition can clearly eat away at a company looking to retain its strong reign in the mobile world. Apple is feeling the heat from the Android platform which has elevated its presence immensely since the fall with a plethora of handsets making their release. Due to its sheer presence, Android is giving Apple's iPhone a run for its money. New speculations have surfaced from French-language Magazine Challenges that the next generation iPhone is looking to launch in May; as opposed to Apple's pattern of introducing the newest model in late June/early July. The assumed reason behind all this is to prevent Android handsets from being garnered as an attractive alternative to the iPhone. In order to reduce the amount of potential wanderers, a spring release could be advantageous for Apple so that interest in the venerable smartphone will be reinvigorated. As time passes by, Apple is probably hearing the loud footsteps of Android hitting the ground as it catches up to the mighty iPhone.
source:
Challenges
via
Mobileburn
&
Edible Apple