Four new feature phones from AT&T to offer Opera-powered full web browsing
4

With four new feature phones, AT&T is trying to give you the full HTML browsing experience that is usually reserved for a smartphone. While browsing on a feature phone is usually akin to using a straw with a hole in it, these four handsets are said to use "advanced data compression" from Opera Software, similar to the Opera Turbo which reduces bandwidth consumption by as much as 80 percent. Of the four devices, two are manufactired by Samsung with the other two made by Pantech.
The Samsung Flight is described as a "next-generation messaging device" with its' touchscreen on top and a portrait slider QWERTY keyboard below. The Flight is expected to be launched next month at $99.99 after a mail-in-rebate and a signed two year contract. The second Samsung phone is the Mythic. This sexy looking slate features a 3.3 inch touchscreen with TouchWiz and support for AT&T Mobile TV. Seemingly the successor to the Eternity, the Mythic is also expected out in November with a contract price of $199.99 after a $50 rebate.
The Pantech duo leads off with the Reveal. The handset has a numeric keypad on top with a QWERTY keyboard on bottom. With 3G connectivity, the model supports AT&T Navigator and will launch October 18th in either red or blue at an unknown price. The last model is the Pantech Impact..This phone has two displays, an OLED screen on the outside and a second internal screen that is revealed when the handset is opened up to use its' QWERTY keyboard. It will be available in pink or blue although launch date and pricing is not yet known.
Each of these four feature phones will use AT&T's new mobile browser which is said to offer full PC desktop-like web browsing on feature phones, thanks to Opera's technology. If it is some form of Turbo, imagine what the carrier could do with the 80 percent of the bandwidth that it does not need for browsing anymore.
source:
AT&T
via
EngadgetMobile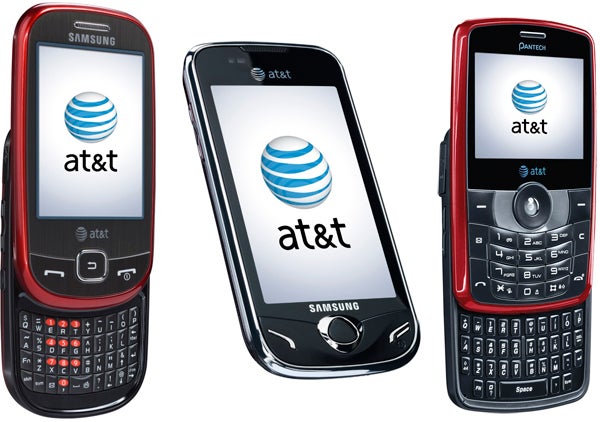 L to R "Flight", "Mythic" and "Reveal"