Forget wearables - the first implanted phone may be in you by 2023, claim experts
38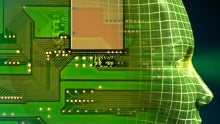 The original iPhone was announced back in 2007, the first Android came in 2008, and it didn't take long for the industry to explode with innovation to the state we are now, when the market for smartphones has already started maturing - just a few short years after those disruption. That is why when some of the most influential minds in technology, business and politics are predicting trends that will emerge in the next few years, one ought to listen, rather than dismiss them as wishful thinking.
Around the World Economic Forum congregation in Davos, about 800 experts and executives have been surveyed on the overarching trends that will shape the technology of the future, and two years piqued our attention in their predictions - 2022 and 2023. As you can see in the timeline below, 2022 is dubbed as the threshold year when wearable Internet is forecast to reach its tipping point. The next year, the experts expect the same thing to happen with three other trends - implantable technologies, vision as the new interface, and having a super computer (by today's standards) in your pocket.
It's not really a stretch to go from here to the notion that in the near future we will be able to have a lot of the technologies that comprise our smartphones in a wearable, or even implanted, format. For example, the "vision as the new interface" trend would translate to about 10% of reading glasses being connected to the Internet in some shape or form by 2023, claims the survey. Think ubiquitous
Google Glass
, or even Microsoft's
HoloLens
. That same year, according to the experts, we will have the first commercially available implanted smartphones. Wait, what? In a nutshell:
People are becoming more and more connected to devices, and those devices are increasingly becoming connected to their bodies. Devices are not just being worn, but also being implanted into bodies, serving communications, location and behaviour monitoring, and health functions... Smart tattoos and other unique chips could help with identification and location. Implanted devices will likely also help to communicate thoughts normally expressed verbally through a "built-in" smartphone, and potentially unexpressed thoughts or moods by reading brainwaves and other signals.