Forget about 4K: this app gives your videos an 80s VHS overhaul
11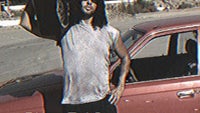 The year is 1985 and most of you have not even been born yet. Heck, most of us haven't been born yet! 'Twas the gold age of VHS tapes and if you were luckily, you (or your dad) might have had a VHS camcorder.
It's all real: you are shooting videos and can play them back on video cassettes on your TV! How crazy is that?
Well, it's now all possible on the latest iPhones.
Surprised? It is no surprise that iPhones can capture video in a beautiful 1080p video quality, but what's peculiar and interesting about this hip new app is that it transforms that good-looking footage into a not-so-good-looking, jittery, defect-laden recordings.
So why'd you want to do it? One simple reason: it simulates the times of VHS tapes brilliantly, so much so that it even downgrades the quality of the sound via the microphone. Also: because this app has gotten a perfect 5-star rating from its few happy users.
It costs a hefty $3.99, but the effect seems fun enough to try it. You might just want to see whether the statement that this is "the most accurate app ever for simulating aged videotape recordings" that developers make is indeed true.