Forget Daydream: here's a Google Cardboard viewer you can actually eat
4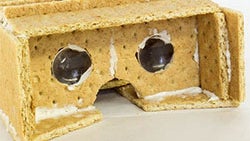 Smartphone users have nothing but options when it comes to VR viewers right now, and beyond a litany of
Google Cardboard-compatible designs
, we've also got
phone-specific viewers like Samsung's Gear VR
. When we start adding to that list later this year with the first headsets
designed to the new Google Daydream standards
… well, suffice it to say that a very crowded VR-viewer market is only about to get busier. With so much hardware out there, we're always looking for devices that really stand out, and today we find ourselves drooling over a new DIY Cardboard project – and with good reason, as this one's made of graham crackers and icing.
Envisioned as something of a gingerbread Cardboard, the viewer's constructed out of overlapping segments of graham cracker panels, cemented together with the help of some icing.
Now, full disclosure: this Cardboard viewer isn't quite 100% edible, as it still employs standard plastic lenses. Could you theoretically craft some optically transparent, edible lenses of your own? Probably, but not without a ton of time and effort that could otherwise be spent building, using, and consuming this 95% edible VR viewer.
Practical? Oh, heavens no. But we can't deny that this project both looks like a lot of fun, and is straightforward enough that you could likely pull it off yourself without a huge amount of difficulty. Granted, you'd probably end up with a lot of broken graham crackers and spent icing in the process, but cleaning up after yourself (especially if you get to eat your failures) is half the fun.
source:
Make
via
Boing Boing