Flipboard 2.0 finally comes to Android with special Android-only features
8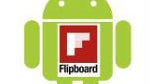 Back in March,
Flipboard for iOS
got the bump to version 2.0, which brought a bunch of new features to the already solid app. At the time, Flipboard called the update "he most epic release we've ever done", and now those epic changes have made their way to Android including the new Personal Magazine functionality and some features that are only available on Android.
Just like the update that hit iOS, Flipboard 2.0 for Android brings UI changes like making the search bar more prominent, redesigning the Content Guide for easier navigation, and adding a Recommended Reading section to surface more articles that you may enjoy. The new commenting system, complete with @mentions, has also been implemented.
But, the big change is still the Personal Magazine option, which allows you to "flip" stories into your own magazine and share that with your friends or the public at large. This can be done with a new bookmarlet on the desktop, and from within Flipboard itself, but Android users get even more options because of the more robust Share menu on the platform. Users can share items from almost anywhere into their Flipboard magazines: you can share photos that are on your device, or web pages that you're looking at in your browser. And, you can share your personal magazines to apps like WhatsApp or Facebook using Android's share menu as well.
When we checked as of this writing, the app hadn't yet hit the
Google Play Store
, but the update should be out sometime today.