Fleksy keyboard app bests own Guiness record for fast touch-screen typing, price reduced by half for eternity
8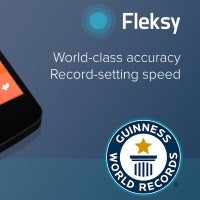 Fleksy, the predictive keyboard app that lets you type with ninja-like reflexes, landed another World Guiness Record... by virtue of breaking its own record. Its former best-in-world result for "fastest time to type a text message on a touchscreen device" - which stood at 18.19 seconds - was bested by a new 17.00 seconds time! The record was pulled off by the same guy and double-certified Fleksy ninja, 17-year old Marcel Fernandes Filho. He had to type the sentence
"The razor-toothed piranhas of the genera Serrasalmus and Pygocentrus are the most ferocious freshwater fish in the world. In reality they seldom attack a human."
Well played, sport!
What's in it for users, though - besides bragging about having a Guiness-certified app, of course?. To celebrate the occasion, Flexy will reduce the app's price by half... forever! The app now costs $1.99 on Android, and $0.99 on iOS.
If you still aren't sold on Fleksy, it might help to know that in addition to besting its Guiness record, the app has won the CES Award for Design and Engineering, the SXSW Award, and a 2014 Golden Stevie Award for Innovation. It was also the first keyboard to enable blind typing on a smartphone, the first to land on a smartwatch as a fully-featured product, and the first to enable typing in a 3D AR interface by virtue of Leap Motion. Hey, there must be something in there!
Download Fleksy on: Android | iOS
source: Fleksy
Fleksy Drops Price Forever, Breaks Its Own GUINNESS WORLD RECORDS® record title
Fleksy, the world's fastest keyboard, reduces price by 50% forever as they help break a second GUINNESS WORLD RECORDS record title for texting speed.
San Francisco, CA, November 18 2014 - Fleksy, the keyboard previously used to break the Guinness World Record for "fastest time to type a text message on a touchscreen device", has done it again. After its iOS app released in September, Fleksy made the iPhone 6 Plus the fastest phone for typing by clocking-in a new typing speed record on the device. Marcel Fernandes Filho, 17, used Fleksy's iOS keyboard to break his previous record of 18.19 seconds with a new time of 17.00 seconds.
"We're very proud of Fleksy's involvement in helping Marcel achieve this impressive feat," said Ioannis Verdelis, Fleksy co-founder and COO. "The speed and accuracy Fleksy provides have yet again proven world-class." Fleksy has made typing faster for millions of users of touchscreen devices through the world's most advanced autocorrect, and powerful gesture control for typing actions. In an effort to bring its keyboard to an even wider audience, Fleksy today announced a permanent price drop of its full version to $1.99 on Android.
"There is massive demand for a premium keyboard like Fleksy which combines speed, beautiful design, and customization options," said Kosta Eleftheriou, Founder & CEO of Fleksy. "We want to improve the typing experience for everyone, and we hope this price drop encourages even more users to take advantage of Fleksy's offering."
About Fleksy

Fleksy is a next generation keyboard that makes typing on any smart device fast and easy, and the #1 paid app in 25 countries on iOS. Officially the fastest smartphone keyboard in the world (Guinness World Record, May 2014 & November 2014), Fleksy is already used by millions of people in over 170 countries. It features the world's most powerful typing technology, an award winning design, and an intuitive user interface. Winner of the CES Award for Design and Engineering, the South by Southwest (SXSW) Award, and a 2014 Golden Stevie Award for Innovation, Fleksy is the world's most innovative keyboard company. It was the first keyboard to enable blind typing on a smartphone (Access Award by the American Foundation for the Blind), the first keyboard to be deployed on a smartwatch, and the first keyboard to enable typing in a 3D augmented reality platform (Leap Motion).
Fleksy is backed by venture capital including Highland Capital Partners and Kleiner Perkins Caufield & Byers.
To learn more about Fleksy, visit
http://www.fleksy.com
.
Media images are available at:
http://fleksy.com/press/
.
Press enquiries: Ioannis Verdelis press@fleksy.com