Flappy Bird creator might have been spooked by legal issues
34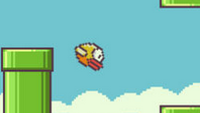 By now, we all now the story of Flappy Bird, the simple, yet addictive game, that Vietnamese developer Dong Nguyen pulled out of app stores around the world. The game was
allegedly bringing Nguyen $50,000 a day from ad revenue
, a pace that would have made him a multi-millionaire before too long. Yet, he would have us believe that the success of the game overwhelmed him. Instead of signing deals to license the character for shirts, lunch boxes and a weekly television series, Nguyen wants everyone to pretend that Flappy Bird never happened.
But there might have been more than just the pressure of success that was eating at Nguyen. According to a report published on Monday, the developer had received a letter from Nintendo. The Japanese game developer wrote Nguyen to warn him that the pipes used in Flappy Bird, along with some other background art, appeared to be taken directly from Nintendo's Super Mario games. The Flappy Bird developer had previously denied copying others in the creation of his game.
While Nintendo won't confirm or deny that it had sent a letter, Nguyen apparently avoided legal problems with Nintendo by taking the game down. But that might not save him from another problem. Another report out of Vietnam reveals that the country's Ministry of Finance is looking into Nguyen's earnings to see if he owes Vietnam some income tax.
source:
VNExpress
(translated),
Forbes