Fixed vs wireless broadband: at $9 a gig, mobile internet is a luxury (pricing study)
6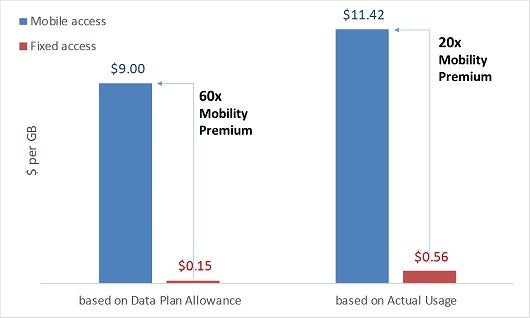 Mobile internet users pay hefty premiums for the freedom to be connected everywhere
Americans still get 96% of their direct Internet consumption from fixed cable lines, while the rest comes through via mobile data networks. Looking at the pricing differential chart above can easily explain the ratio, according to mobile industry analyst Kyung Mun. The researcher calculated the average price per 1 GB for the most popular carrier data plans on the four largest carriers, and,
i
n short, we are paying between 20-60 times more per gigabyte of mobile data than for fixed broadband.
The difference is 20 times when we take the pricing of the average mobile data usage (3.7 GB a month as per the latest
Ericsson Mobility Report
), and relate it to the average fixed Internet data consumption of 80 GB per month. When we look at the data caps of 300 GB a month that most cable providers put in place, however, and the average mobile data plan, the price difference triples to to 60 times that of fixed broadband.
In short, we are more than willing to pay the premium for the privilege to be connected everywhere, while researchers state that the mobile prices will only fall further with the recent operator convergence, and the advent of
5G
. It's worth noting here that the researcher found out that the average price for 1 GB of mobile internet on the big two carriers is about $10, while the smaller two average just about $5 per gig, so if you are on T-Mobile and Sprint, the price difference with your home broadband isn't as high as in the chart above, but still pretty significant.