Five great external microphones for iPhone and Android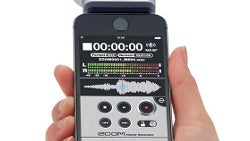 Today's smartphones are, undoubtedly, powerful pocket computers capable of doing many things. While being able to check your emails on the go was once their most incredible feat, today, their capabilities seem limitless. We play games on them, take and edit amazing photographs, view and edit spreadsheets and documents, draw, schedule tasks and reminders, keep our most personal notes, and record and edit audio – be it for blogs or actual music.
It's that latter part that we'd like to explore in this pick. It has become common for video bloggers to use their handset for quick (or not so quick) snippets when a new video needs to be taken in a jiffy. It has also become common practice for musicians to bust out their smartphone when a new song idea pops in their head and they need to record it ASAP. And, let's be honest, even most of the top-tier smartphones out there are hardly capable of delivering a thick, powerful recording, without distorting, muffling, or sounding tinny.
Thankfully, there's plenty of external microphones available out there. The bad news is that most of the digital ones only have an Apple Lightning connector, so we are sorry that Android users might feel a bit excluded once we pass the second microphone on the list. The good news, however, is that handsets with Android 5 and above will accept any USB-connectible digital microphone via an USB OTG cable. This means limitless options from the gazillion microphones available for PCs.
With all that said, here are a few mobile microphone suggestions that we find pretty great.
A simple clip-on: the discrete mic for a single speaker


Rode smartLav+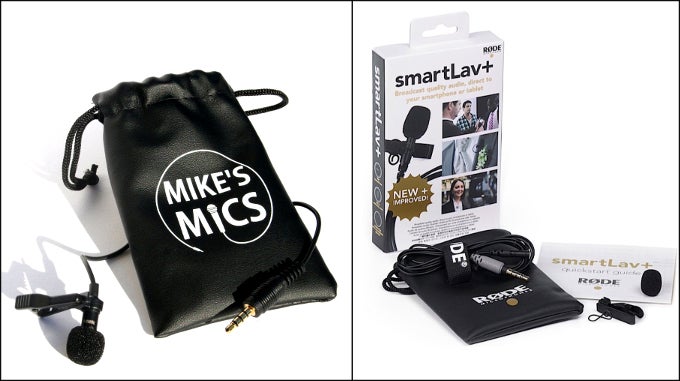 Pros
Compact and discreet
Easy plug and play operation
Cons
Not great for multiple audio sources
Not suited for loud sounds
Cable could get in the way
The lavalier or broach mics are well-known and still commonly used by video bloggers who rarely have more than one person in a video. One uses their clip-on to attach it somewhere on the wearer's clothing, usually in the chest area, then conceal the cable under the clothes and have it connected to the recording device on the other side. Obviously, there's a limitation here – the speaker can't stray too far away from the phone. Maybe it's a good idea to use the lavalier mic on a secondary device, which is in the speaker's pocket, while another camera shoots the video.
We linkted a couple of options above – you can go for a budget $14 decision on Amazon, or grab a brand-name device from Rode. In any case, lavalier mics are a great compromise between size, ease of use, and audio quality, but not the best option when you want the best recordings out there.
Directional and portable:
The Mighty Mic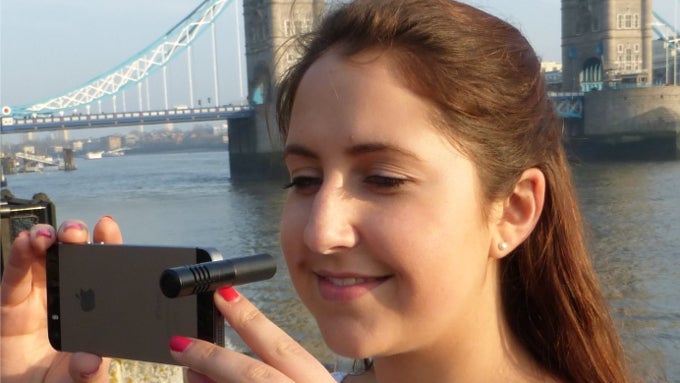 Use:

Multiple subjects, non-loud event, directional

Device support:

iOS | Android
Amazon link ($49.99)
Pros
Ultra-portable directional mic
Easy plug and play operation
Cons
Not suited for loud sounds
Not the optimal choice for music recording
A louder, more sensitive, directional mic, which doesn't take up much space. Indeed, The Migthy Mic is a great option if you want to record videos with noticeably better sound than your built-in mic is capable of capturing. There is also a headphone jack in the mic for monitoring purposes. We still wouldn't trust its rather small membrane for loud environments.
Robust stereo recorder:
Shure MV88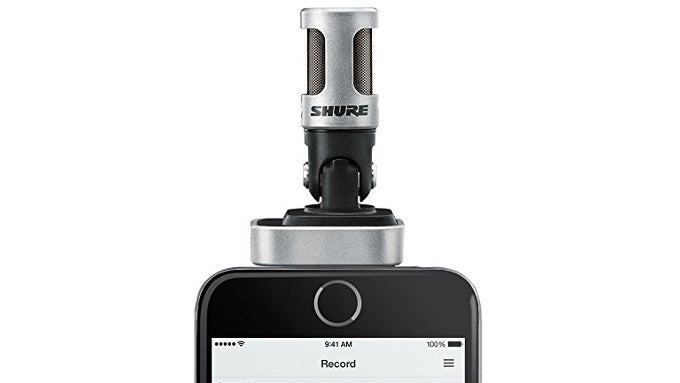 Pros
Stereo recording
Robust housing
Presets for a few different scenarios
Advanced features like wind reduction, EQ, compressor and limiter
Does well in loud environments
Cons
A bit expensive
Won't fit with phone cases
This Lightning-connectible, metal-encased microphone is not joking around. Built with a mid-side architecture for a clear stereo image and 5 digital presets that set up recording parameters to best suit the current situation: speech, singing, flat, acoustic instruments, loud. These play around with the mic's polar pattern and gain settings. Obviously meant for serious application, it can take the deafening sounds on a rock concert and try to transform them into clear recordings, but the price-tag is definitely reflective of that.
Fancy X/Y for beefy sounds:
Zoom iQ6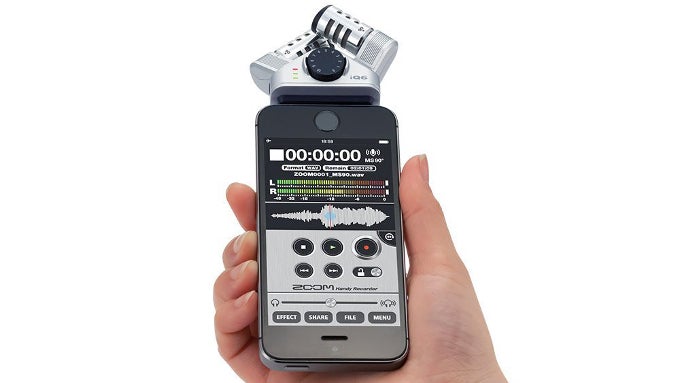 Pros
Captures deeper, more realistic sounds
Variable mic angles
Fine gain control
Does very well in loud environments (up to 130 dB)
Extended Lightning connector and removable spacer to fit with most phone cases
Cons
Not a good choice for beginners
Does not capture wide stereo, but difference-in-time and difference-in-level stereo
This module consists of two microphones arranged in a X/Y recording formation. The idea is that the off-axis attenuation performed by each of the microphone creates difference-in-time stereo and difference-in-level stereo. The result is a nice, beefy feel to the recorded sound. Do note that this will not produce channel-separated or wide stereo image recordings. This one could work great for recording acoustic instruments and even singing, as well as any special sound effects that you want to capture from the real world and turn into digital samples. The Zoom iQ6 will cover up your iPhone's audio jack, but fear not — the microphone has a headphone output for you to use if you want to monitor your tracks!
Can handle loudness and abuse:
Blue Microphones Mikey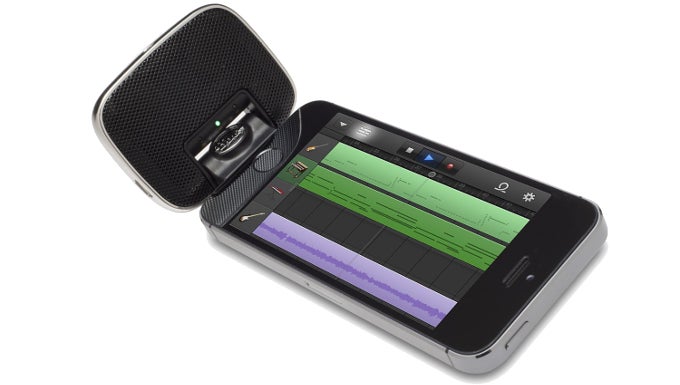 Pros
Stereo capture
Robust housing
230-degree swivel
Micro-USB port to charge phone while recording
Built specifically to handle loud environments (130 dB) and cancel unwanted noise
Cons
Blocks headphone jack on iPhone 6 / 6s models
Does not fit with phone cases
This robust beauty is built to handle both physical abuse and loud noises – according to specs, the Mikey can take up to 130 dB of loudness. To give you a better perspective, it is generally said that loud rock concerts hover around the 120 dB mark, so you should feel pretty comfortable recording just about anything with this bad boy. It has three gain modes — Quiet, Auto, and Loud — for better tweakability according to situation, and its shielding tries to negate unwanted environment noises. There is also a micro-USB port on its side, which allows you to charge your iPhone / iPod / iPad while still using the microphone – just in case it's a long recording session. Unfortunately, due to the headphone jack being moved to the bottom on the iPhone 6 and iPhone 6s, you won't be able to use headphones for monitoring reasons. So, if you are on an iPhone 5 / 5S / SE / iPad, you can use the Mikey for some professional work, where constant track monitoring is required. For iPhone 6 / 6s users — you can still use it for some demo recordings, or grabbing a clip of your favorite band, but using it for studio work would be a bit bothersome.
Multi-purpose:
Line 6 Sonic Port VX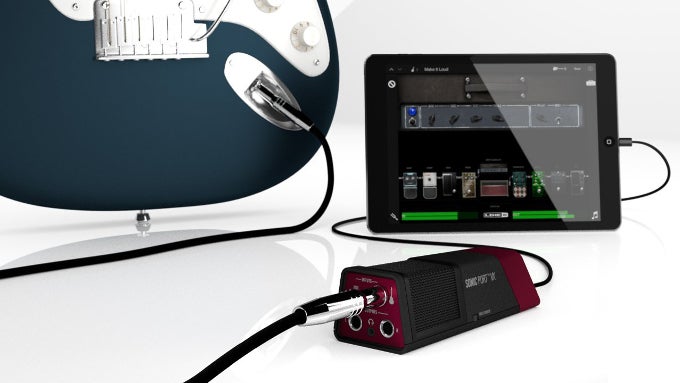 Use:

Mono recording, stereo recording, audio interface with instrument input

Device support:

iOS, Mac, PC
Amazon link ($151.29)
Pros
A choice between mono or stereo mic
Fine gain control
Doubles as audio interface for mobile device or home studio
Can handle loudness of up to130 dB
Cons
A bit bulky
Lightning cable with a proprietary Line 6 connector – don't lose it
This multi-purpose audio interface by Line 6 also features a pair of mono and stereo condenser microphones that the user can switch between, and an instrument input. Basically, it's an all-in-one – you can use it to record music on the PC at home, plug your guitar in and use it with the many guitar amp simulators for iOS, or take it to the rehearsal room to record the band. It also comes with its own stand in case you wish to use it for podcasts or vlogging. A fine 1-to-10 gain pot gets it from capable of withstanding the loudest of noises to being extremely sensitive.
This one is among the more serious investments, but it's a great choice if you don't feel comfortable in shelling out for an external microphone that you will rarely use — just switch it around and use it as an audio interface.