Five gloriously bloody Android & iOS games (that don't have poorly rendered zombies)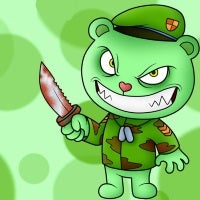 In the world of action video games, there is nothing more satisfying than crushing your enemies, seeing them driven before you, and hearing the lamentation of their women. It is customary that the process involves gratuitous, bloody violence - the more red pixels are shown on screen, the more glory for you!
Mobile games are no strangers to the gory fun. After all, as their processing power escalates, so does the amount of giblets they can show on their ultra
pixel
-dense displays, right? However, 99% of violent games on Android & iOS seem to be about shooting poorly rendered zombies or poorly rendered humans. So here are five games that spill buckets of blood without straining your eyes with bad 3D (well, technically, Carmageddon does look pretty bad, but that's on purpose).