Fitbit is reportedly up for sale; would Google be interested?
6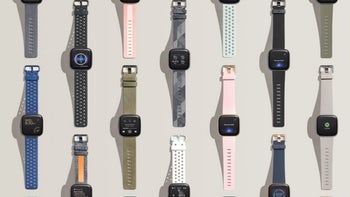 On the surface, it would seem that everything is copacetic at Fitbit's headquarters in San Francisco. During the second quarter of this year, Canalys said that
the company trailed only Apple in North America wearable band shipments
with 1.9 million units delivered. That gave the company a 24.1% share of the market on the continent and growth in shipments was up 18% year-over-year. But Fitbit is having a problem. While its fitness trackers continue to sell well, the company is facing competition from cheaper bands sold by Xiaomi and Huawei. And Fitbit has yet to find any traction in the smartwatch industry where Apple and Samsung dominate.
With the company's shares down more than 90% from its 2015 high,
Reuters reports
that Fitbit is exploring a sale of the company. To that end, it has supposedly been talking with its investment banking firm Qatalyst Partners to discuss whether talks should be scheduled with potential acquirers. While Fitbit is unsure whether it will pursue a sale, Qatalyst has been trying to get Fitbit to take a look at potential offers; after all, the investment bank would be in line for a nice payday should it find a buyer for the company. And the investment bank has reportedly tried to convince the wearables manufacturer that Google would be interested in buying it.
The Fitbit Ionic, the company's first smartwatch, was a flop. That was followed by the Versa and a cheaper version called the Versa Lite. While the latter can monitor the user's heart rate and track physical activity, it can't store music. Poor sales of the $160 device forced Fitbit to cut its revenue estimates for this year from a range of $1.52 billion-$1.58 billion to a range between $1.43 billion-$1.48 billion. CEO James Park said, "While Versa Lite received good present consumer reviews, we saw that consumers were willing to pay more for a smartwatch with additional features or look for discounting versus everyday value." So last month, the Fitbit Versa 2 was launched with added features such as Amazon's digital assistant Alexa, the ability to store music and an online mobile payment system. The device is priced at $230.
Fitbit's investment bank is trying to steer the company toward a meeting with Google

Would Google be interested in buying Fitbit? The company has developed the Wear OS operating system used on many smartwatches, but it currently doesn't manufacture one itself. Every year diehard Android fans hold out hope that Google will unveil a
Pixel
Watch, but that has yet to happen. Back in January, Google paid watchmaker Fossil $40 million for some innovative smartwatch intellectual property. Last week we passed along a report claiming that the IP Google bought was related to technology focused on hybrid timepieces. These are devices that look like a traditional watch but have some of the functionality of a smartwatch. The purchased technology is called Diana (a combination of Digital and Analog) and a watch that was supposed to launch this month called
the Fossil Collider Hybrid Smartwatch HR reportedly is the first to use the "Diana" technology
. It also is a Wear OS-powered device.
Assuming that Google does have an interest in making the acquisition, how much would such a transaction cost it? Fitbit's current market capitalization (stock price multiplied by the number of shares outstanding) works out to approximately $1.05 billion. But such transactions always have to include a premium to entice those who own shares of the target company to sell out. Assuming that Google pays as much as a 30% premium for the company, Fitbit might go for as much as $1.37 billion.
According to last week's report, Google was more interested in acquiring the 20 engineers that came over from Fossil along with the IP. A purchase of Fitbit would add more engineers and employees with the expertise to help develop a Pixel Watch. Eventually, Google could sell off the
fitness tracker
end of the company, recoup some of its investment, and end up with a true competitor to the timepieces turned out by Apple and Samsung.