First unofficial details about Nokia EOS surface
62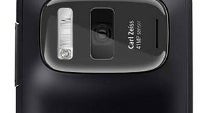 The
Nokia EOS
is a device we've been hearing for months now. The supposed Windows Phone-based successor to the best cameraphone on the market, the
Nokia 808 PureView
, the Nokia EOS has been a closely guarded secret. Until now that is as not one, but two sources have spoken and both agree on what the device will look like.
The
Nokia EOS will look somewhat like a Nokia Lumia 920 but with a large sensor bulge out in the middle
in a huge cover-protected camera opening on the back. It is not yet know whether it'd feature the same 41-megapixel camera as the 808 PureView, and it will come with a new Nokia Pro Camera app that allows manual focusing. The EOS is rumored to have the same 4.5-inch WXGA AMOLED display as the
Lumia 925
.
An insider who got to see the device in prototype form spoke for WMPowerUser and here is his verbatim description of the phone:
The device is made of polycarbonate, and is about as thick as the Nokia Lumia 920 in the middle, but is highly tapered at both ends, giving the impression of a much slimmer device.
The lens housing is round in shape and does not protrude much. The flash is Xenon, and the flash and lens are both smaller than the Nokia 808 Pureview. Next to the flash is a small red LED which may be a focus assist light.
The lens also has an automatic cover that opens when the camera app is started.
The number of megapixels were not marked on the prototype, with
"XX megapixels"
only being written on the lens housing.
There is a new camera app called
"Nokia Pro Camera"
with a completely new interface. There is also manual focus available through the app. The regular photo app is also available.
The screen size and resolution is same as 920, and appears to be AMOLED. The speaker holes are at the bottom as the handset.
The handset was much lighter than the Nokia Lumia 920.
The information has been confirmed by another insider, so this definitely seems like a truthful rumor, at least on paper. Overall, the Nokia EOS is portrayed as a hybrid between the recently announced Lumia 925, the Lumia 920 and the 808 PureView. Not a bad combination, is it?
source:
WMPowerUser