First real-life image of HTC One mini 2 surfaces, shows playful color accents
30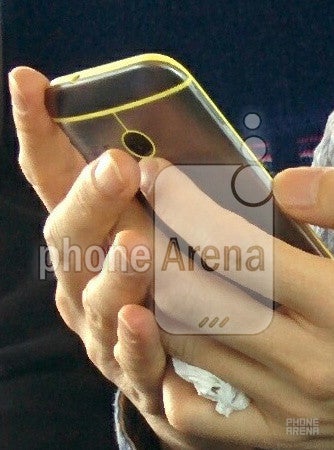 HTC is obviously finding it hard to keep the 'mini' version of its HTC One (M8) a secret. We were just sent the first real-life picture of the phone that's expected to be called the HTC One mini 2. Our source sent us an image of a careless tester using the One mini 2 in public transportation, and what we can see in it is a combination of HTC's industrial all-aluminum design garnished with playful color accents (yellow, in our case) for the strips of plastic hiding the antennas.
It's a catchy design, and we like the idea of the added color, however, we are not completely certain whether this added color is not just for this particular testing prototype, so don't take this colorful element for granted. Otherwise, the all-aluminum body seems to match the looks and soft finish of the HTC One (M8). Our tipster also confirmed that the new One mini 2 will use on-screen buttons, just like the M8.
The One mini 2 is expected to run on the latest Android 4.4 KitKat with the newest HTC Sense 6.0. Its specs are said to include a 4.5-inch screen with a resolution of 720 x 1280 pixels, a quad-core Qualcomm Snapdragon 400 system chip and a 13-megapixel camera with single LED flash.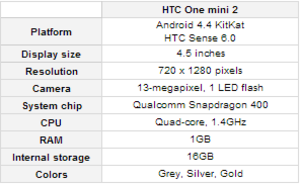 Rumored specs for the HTC One mini 2
Obviously, this will put HTC's second 'mini' in the same league as the popular Motorola Moto G (a device that also features a 4.5" display and the Snapdragon 400 chip), but we're curious whether or not HTC will be able to match the low price of the Moto G.
The HTC One mini 2 release date could be as soon as later this month, so it might not be long until we see it officially.
Hat tip to our anonymous tipster!
Recommended Stories