First photo of the M1 Note Mini. Rumors say it will have an Ubuntu variant
2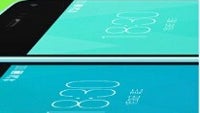 Update

: And just as we were saying that we haven't seen much of the purported M1 Mini, its first spy photo surfaced. In the picture, two M1 minis are placed next to a regular M1 Note. Check it out in the gallery below
China-based Meizu has been making the news for the past year with its powerhorse smartphones,
priced at midrange level
, and impressive, razor-sharp-bezel design of its flagships. It recently made waves again, when it announced its
M1 Note
(also famous under the Blue Charm Note moniker) – a 5.5" phablet-class midranger with bottom-of-the-barrel pricing.
Before the Blue Charm was announced, there were rumors floating about that it will have a smaller sibling – an M1 "mini", if you will – however, Meizu made no mention of such a phone at the M1 Note announcement event. The company will be holding another press conference in 5 days – on January the 28th – and it is
widely believed
that this will be the moment when the M1 mini will see the light of day.
Now, there haven't been a lot of pictures of the new device, though, we've seen a few rumors, some conflicted between 4.7" and 5" display. This latest rumor, coming from the depths of Weibo, claims a 5-inch, 720p display will adorn the front of the compact Blue Charm, and its main camera will hold a 13 MP sensor, the latter – we've heard before. What's interesting, however, is that the same rumors claim that the handset will be available in 3 different variants – one with Meizu's own Flyme OS, Alibaba's Yun OS (both are heavily skinned 'droids), or Ubuntu Touch. The price, toted by one of the "leaked" posters, is 799 yuan, which equates to $128, but we're not sure if its the tag for a specific variant of the M1 "mini", or if it will apply to all of them (assuming the OS variant rumor is true).
Now, we've been hearing about an
Ubuntu-powered handset
to be brewing in Meizu's kitchen for quite a while. Apparently, nothing has yet materialized from said whispers – either Meizu scrapped the idea of trying to sell their more expensive hardware strapped on to an unpopular operating system, or the rumor was just a fluke. This time around, we'd say it kind of makes sense – Alcatel OneTouch will also be offering the
PIXI 3
in three OS variants, so, who knows – maybe Meizu will be doing the same.
via:
MeizuNews