First iBooks 2 titles met with disappointment, lack interactivity
4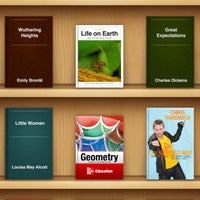 However, while the concept of interactive textbooks sounds great in theory, the initial real life experience appears to be disappointing to some.
Slader
, for example, which is an online academic community for high-school students, did a comparison between a traditional math textbook and its digital alternative. Sadly, the virtual textbook had pretty much nothing to stand out with as it was more or less identical to the paper one.
It's akin to reading a PDF copy of the printed textbooks that exist in classrooms today. The interactive features promised are virtually nonexistent. Beyond the usual iPad features (highlighting and in-page definitions), there's nothing new included in the publishers' math iBooks.
Individuals who have also given the new books a shot appear to be dissatisfied as well, judging by the number of one-star reviews that have started piling up. Again, the lack of interactivity is the main concern.
Has anyone of you tried any of the books in iBooks 2? Feel free to share your experience with us by dropping a comment.