First alleged picture of the BlackBerry Hamburg surfaces; final name could be NEON
58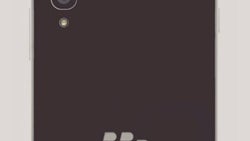 A couple of days ago, we learned that
BlackBerry is possibly partnering up with TCL
to rebrand a handset from the Alcatel line of smartphones with the BlackBerry name. The rumor has it that the phone in question, the Alcatel Idol 4, is being rebranded as a BlackBerry device with the codename Hamburg.
However, yesterday, Twitter user The Malignant posted what could be our first glimpse of the handset – or, you know, a photoshopped picture – claiming that its official name would be the BlackBerry NEON. Replying to another Twitter user, the original poster also claims that the phone's body will be "partially" aluminum, which is also in line with what saw earlier this year
when we took the Idol 4 and 4s for a spin
.
Adding to the initial rumors' credibility, the specs of the alleged
BlackBerry Hamburg smartphone were revealed via a GFXBench benchmark test
last month, and they are indeed identical to those of the Alcatel Idol 4. Interestingly enough, another Alcatel device, the Idol 4s, was recently released in the UK, also under a different moniker –
rebranded as the Vodafone Smart Platinum 7
.
There is not much doubt left that the BlackBerry Hamburg will most likely be a rebranded Alcatel Idol 4, but whether its final name will be NEON, and whether what we're seeing in this Twitter post is the real device, remains to be seen.
Recommended Stories