First Sony Xperia Z1S image surfaces: fully powered 'mini'
38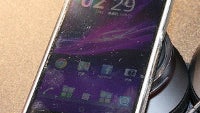 The Sony Xperia Z1S is rumored to be the first 'mini' Android handset to actually feature maxi hardware and now we get to see it in the flesh for the first time.
The Xperia Z1S, a supposed 4.3" shrunken down version of the flagship Xperia Z1, keeps almost the same powerful guts as Sony's flagship Z1 - the same powerful Snapdragon 800 system chip, the impressive 20-megapixel camera with a larger than usual 1/2.3" camera sensor and the same sleek water and dust resistant body.
Since it is smaller, the Xperia Z1S had to change a bit. The smaller size mandated a lower screen resolution of 720 x 1280 pixels, down from 1080 x 1920 on the Z1. Still, that works out to the very sharp pixel density of 340ppi.
With the smaller screen and size, Sony also had to scale down the battery. The battery capacity on the Xperia Z1S is expected to be 2300mAh, down from 3000mAh on the flagship 5-inch Xperia Z1.
Now, how do we know this leaked image, found accidentally on Sony's website, is indeed credible and not the already announced Japan-bound Xperia Z1F? Simple, the front-facing camera on the Z1F is on its right side, while here the camera is on the left. Moreover, there is no logo for NTT DoCoMo, something that's found on the Xperia Z1F.
This leaked image actually looks very similar to another
image of the alleged Xperia Z1S
published earlier by @evleaks. With so much smoke and invitations for a
Sony event in Shanghai on November 12th
, we might well see the official announcement for the 4.3" Xperia Z1S then.