First LG G5 vs iPhone 6s vs Galaxy S6 camera samples comparison
24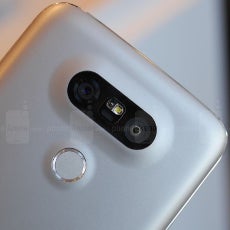 The long-awaited
LG G5
announcement just came and went, and we got a chance to play with the finest piece of mobile hardware LG has ever devised. This time around we have an all-metal body, volume buttons on the left side, rather than on the back. and yet the power button is still on the rear of the device, incorporating a fingerprint scanner.
At 149.4 x 73.9 x 7.7 mm, the LG G5 is narrower and thinner than the
LG G4
(148.9 x 76.1 x 9.8 mm), and the metal body has a unique modular mechanism that allows you to add various extras to the device, including a camera control piece. Speaking of the shooter, the G5 ships with a very intriguing dual-camera module, widening the field of view, with optical stabilization and laser auto focus to boot. Is it a good one when sized up to the best that the smartphone world can offer in the form of the
Galaxy S6
and
iPhone 6s
?
Well, judge for yourself, as we snapped a few comparison shots with the three puppies for your viewing pleasure. Don't give them too much thought, though, as the LG G5 is likely still not with a finalized software, and also be patient as these are the full size samples, so they may take some time to load.