First Intel Medfield battery tests are out: battery hog myth busted
19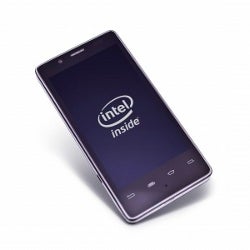 The
first x86-based Intel Medfield phone
is finally out and while we've seen it performs on par with current dual-core Cortex A9 setups, the myth of Intel architectures failing when it comes to battery life persisted. All the way until now - the first battery tests for the Lava Xolo X900, the first Medfield phone, are out and they bust the myth of poor power efficiency on x86.
AnandTech got the Xolo X900 for a spin in its battery labs, and the results confirm Intel's claims of good power management. First, though, it has to be noted that the Xolo X900 comes with a small battery when compared to the competition - with capacity of only 5.4Whr, the battery is below the average 6Whr on most other handsets.
So how does it perform? Intel's claims of 5 hours of continuous 3G browsing and 8 hours of talk time proved legitimate as actual testing resulted in the phone lasting 4.6 hours on 3G and 8.5 hours for talk. AnandTech tests the screen at 200 nits and by loading a few dozen pages endlessly over WCDMA or WiFi. Its other, WiFi hotspot tethering test attaches a single device and streams 128 kbps MP3 audio and loads four tabs of the previous browser test over WCDMA with the screen off.
So while the X900 falls below the average on the tests, if the results get normalized for the smaller battery, it turns out that the battery life is right in the middle of current chips, performing almost as well as TI's OMAP 4 phones.
We'd say that this is a good start for Intel's Medfield-based phones and it alleviates all fears that the platform will be a battery hog. It's not, and it performs reasonably well
beating the TI OMAP 4460-based Galaxy Nexus easily
on some tests. Check out the full benchmark results at the source below, and let us know if now you're convinced that Intel on phones is a viable idea.